Behind every team is a group of trainers who take care of the athletes on and off the field. Professional athletic trainers, Dave Buchholz and Jessica Schaber  provide support and training to the student trainers. These students, like sophomore Gabbi Higginson, are tasked with being available to players at their games, matches or meets, and assisting in the recovery process for injured athletes. 
"We get to lead [players] in all different kinds of exercises and stretches and see them progress from being very injured [to] going back onto the playing field," said Higginson. "When a player has a high ankle sprain, they will go through various massages and exercises with our TheraBands and are able to get their strength built up to get back to playing. It's really important because our certified athletic trainers, like Dave and Jessica, can't be there all the time, and they need people to be able to do basic first aid, taping and stuff like that when they are dealing with other serious things." 
For sophomore Rose Jones, a student athletic trainer, it is an opportunity to learn skills that she hopes to use in a career as a physical therapist.
"I want to be a physical therapist when I'm older, so I thought [being an athletic trainer] would be a good head start," Jones said. "I'm learning different exercises to do on other people, and then I'm learning how to tape. I'm learning how to stretch people and rehabilitation."
While Higginson, on the other hand, does not want to enter the field of sports medicine,  she has learned time management skills that she believes will be useful in the medical field.
"I don't think I would want to pursue athletic training, but I would say maybe something like nursing," Higginson said. "[Training] has somewhat been able [to teach me how] to structure my time around it, and get some of the skills I would need to do [nursing]."
Along with the useful time management skills, the flexible schedule of being an athletic trainer allows for Jones to pursue not only the specific sports she is interested in, but also focus on other interests outside of training. 
"I have choir rehearsals, so I'll go to choir, and then I'll go to the trainers, or… I can go whenever I want or when I have time," Jones said. "It doesn't interfere at all, actually. I can go into trainers whenever I want, and whenever I have choir, I don't go into trainers."
A highlight moment for both Higginson and Jones was the chance to travel with the football team to Lucas Oil, where the trainers saw first hand the kind of workload, facilities and pressure professional trainers grapple with.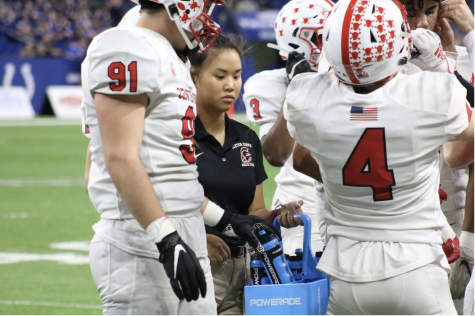 "One of my favorite moments has probably been when, this past November, we were able to go to Lucas Oil with the football team for the state championship," said Higginson. "The week of the state championship, we got to go to an hour practice, and just [got] to walk around the facility and see all the places we [have to] go. And then, on the day of the state championship we got to go into the Colts locker room and the training room."
For Jones, the experience was not only one of fun and excitement but also a test of the skills they had learned. 
"It was actually really fun," Jones said. "It was kind of stressful. We check every time they come to the bench if anyone is bleeding; we check for blood a lot. If they need to be re-taped, we'll re-tape them and we help with waters on top of that."
For Higginson, despite the pressure and workload, being an athletic trainer is worth the value it brings not only to her life but the athletes' as well.
"Some of my favorite things are to be able to work with athletes every day and being able to see them progress from their injuries and [getting] back on the playing field," Higginson said. "I like the confidence that it has [given me], to be able to work with other people and give me the teamwork skills to… possibly take into the medical field in my future."