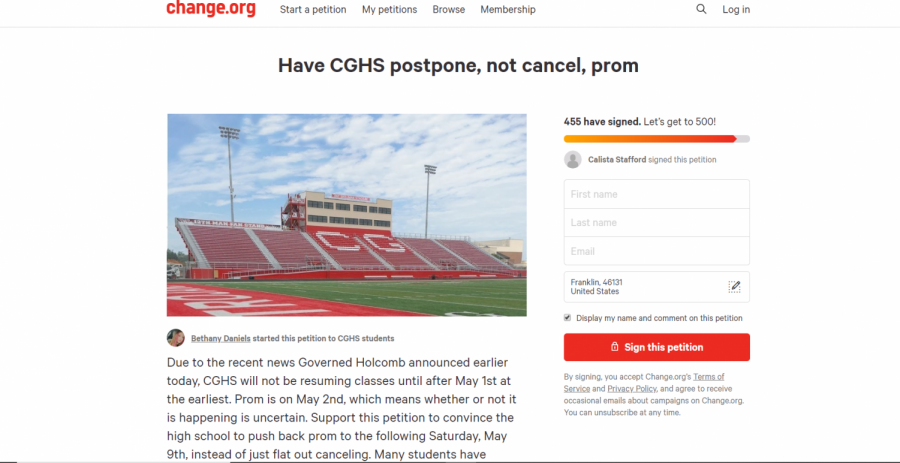 In the wake of the cancellation of many school events due to the coronavirus, junior Bethany Daniels decided to take matters into her own hands by starting an online petition to postpone, instead of cancel, prom. 
"I just felt as though with all that's happening in the world right now, prom is something CGHS students can look forward to," Daniels said
Social distancing and self-quarantine has opened Daniels' eyes to the benefits of the regular school schedule. 
"I'm typically a really social person, so being so isolated has been really hard for me," Daniels said. "Being out of school has made me realize how much I took advantage of being able to go before this whole virus thing."
Daniels believes that prom is an important event for the students at the high school, the community and the seniors that would be in attendance.
"My dad, who is now the school-board president, gave me the idea of a petition to draw the school's attention once I voiced my concerns about the potential cancellation of prom," Daniels said. "It'd give students a break and an opportunity to come together as a community, and, for seniors, for the last time."
When asked about the possibility of postponing prom, Principal Jeffry Henderson was unable to provide a definitive answer.
"At this point in time, it is too early to speculate about what may happen with prom. We will need to monitor the progression of this virus and make those decisions later," Henderson said in an email. "We are currently looking at all options, but it is simply too early to even begin to develop any plan."
Regardless of the outcome, Daniels' petition provides students an outlet to express their opinion. 
The petition link:
http://chng.it/nD6bTRySqg