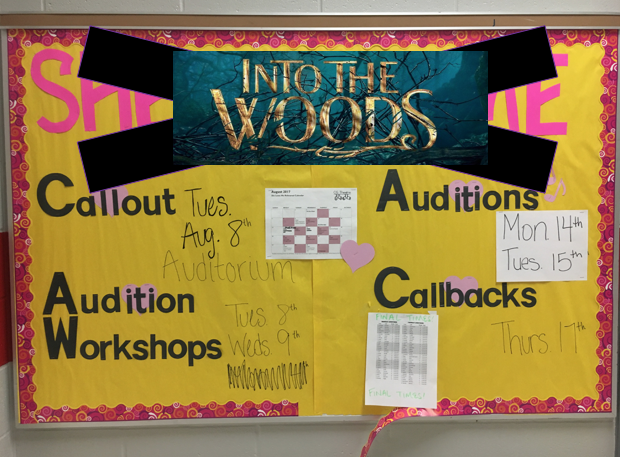 During the middle of callbacks for the musical on Aug. 17, the directors decided the show would not work for what they wanted and a change was needed.
Instead of "She Loves Me," the CG Drama Department will be producing "Into the Woods" in November.
"The musical change was a huge surprise, but it was refreshing," senior Cameron Brooks said. "Preparing to audition for one role but then having to change it on a dime was an excellent experience to diversify myself as an actor."
The change was because of the amount of talent that showed up to the auditions. The directors were overwhelmed with the amount of applicants, and "She Loves Me"'s small cast couldn't accommodate the numbers.
"I still love ["She Loves Me"], and I personally would love to do it, but it just wasn't the right fit for this year," director and English teacher Lauren Widbin said. "There was just more talent at auditions than we were expecting to show up."
That talent will be facing challenges as they work on the dark fairy tale "Into the Woods."
"Taking the characters from 'happily ever after' to more of a realistic character will be a challenge in helping the cast develop those emotions to get out into the audience," Widbin said.
She hopes that character development will stretch students as actors.
"We felt like we needed a show that provided more opportunities for students," Widbin said.
Widbin is the new drama director this year, but she is not new to directing. For years, she was the drama director at Middle School North.
"A lot of these kids I worked with as middle schoolers, and I'm excited to see how they matured in their performance," Widbin said. " I'm excited to get to know the kids who I haven't worked with before. I couldn't imagine a better first year for me to step in!"
Reminder:
The cast list will be posted at Cgtheatre.org around 5 p.m. on Friday, Aug. 18.
Monday's meeting will be for ALL cast AND crew from 3-5 in the auditorium.
If you don't make the cast but would like to stay a part of this production in the crew, please join us.  If you don't show up, we'll take you off of our list.