CG falls to Carmel in state championship game
Hang on for a minute...we're trying to find some more stories you might like.
With only 3:24 left in the state championship game and Center Grove trailing 20-10, junior split end Mason Long caught a pass from sophomore quarterback Tayven Jackson, securing his first career varsity touchdown and restoring hope for the team and fans. Despite this effort, time ran out on the Trojans, who fell to the Greyhounds 20-17. 
"When we started to make our comeback you could feel the momentum shift a little and more energy was brought up on our sideline," Long said. "My touchdown, it was a play that wasn't even supposed to go to my side, then a few things happened and I just started running to the corner, and Tayven did a great job of keeping it alive and throwing it to me. Then after I caught it I heard the crowd and just found the nearest guy in white and we both jumped high."
After four turnovers in the first half led to a 13-3 halftime deficit, Center Grove gave up a touchdown late in the third quarter, giving Carmel a 20-3 lead. However, Jackson's touchdown pass to Long drew Center Grove back to within one score, giving the team momentum heading into the final three minutes.
"It felt great. It was just an amazing feeling having all the fans right behind us the whole way," Jackson said. "Our team succeeded by playing together and just driving down the field. [We also succeeded by] forgetting all the bad things that have happened, and just moving forward."
Returning to Lucas Oil for the first time since 2016, many of the players had never experienced a state championship game, and the seniors were able to play their final game of their high school career on that field.
"It was amazing; I thought we were going to come back and win it and it was going to be the best comeback ever," senior safety Devon Mathena said. "When the time was running out I was just thinking about all four years I've played–all the good memories and how I'm never going to get a chance to play with my friends again."
The team started off strong against the Greyhounds with an early field goal, and the defensive line forced a Carmel field goal after the Greyhounds had a first and goal from the 2-yard-line. But, LJ Weems sacked Carmel's quarterback on third ground, forcing the field goal attempt. The Trojans had the ball at the 21 yard line when they fumbled the ball, which was recovered by the Greyhounds.
However, three fumbles would stall the Trojan offense.
"One thing we could've improved on was turnovers," Mathena said. "Our offense had a few fumbles and our defense didn't cause enough turnovers."
After Carmel turned a Trojan fumble into a touchdown, a late interception allowed the Greyhounds to drive for a field goal as time wound down in the first half.
The Trojans started to make a comeback in the fourth quarter. Jackson completed a 41 yard pass to Trent Veith, and Austin Watson's PAT was good. The Trojans still trailed 20-10 with 10 minutes left in the game. 
Another Carmel punt would set the Trojans up for the final touchdown pass from Jackson to Long.
"My proudest moment of the game was when Mason Long, who is one of my great friends, caught a touchdown to make the game 17-20," senior split end Harrison Luck said.
However, the Trojans were unable to get the ball back in time to score again, and they fell to the Greyhounds 20-17. 
After the game, it was announced that senior running back Jalen Goines won the Phil N. Eskew Mental Attitude Award, but after the close loss, it was difficult to be grateful for it.
"To be honest, winning the award didn't mean a lot at the moment, because all I could think about was the game and everything that football has done for me," Goines said. "I was kind of overwhelmed by everything that was going on. It wasn't something that I could appreciate at the time. I don't want to sound ungrateful, obviously I am also very appreciative of receiving the award, but in the moment I couldn't appreciate it."
About the Writer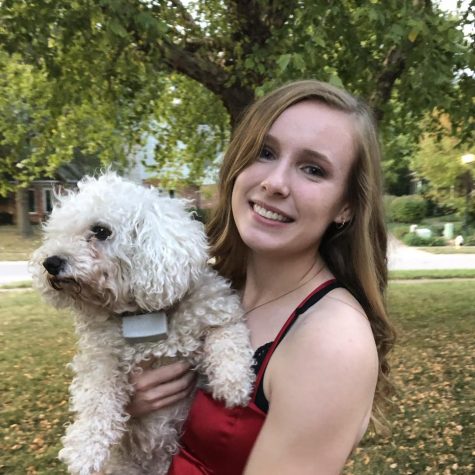 Kelsey Osborne, Sports Editor
Senior Kelsey Osborne has been on staff for all 4 years of her high school career. She was named a Sports Editor her sophomore and junior years, and published...