Feature: Students with Tattoos Break Down the Meaning of the Ink
February 27, 2020
Tattoos have become a controversial way for one to express themself in the modern age. With abundant sizes, styles, shapes and colors, many students have opted to immortalize certain memories or feelings on their skin in their own unique way.
Makaia Brian
Senior Makaia Brian's tattoo was originally, like many others', just for aesthetic purposes. However, as she has continued to live life with her tattoo, it has begun to have great meaning.
"My tattoo is of a spaceman holding balloons that are planets," Brian said. "It's located on my right side rib. It didn't start out having a meaning, but as time has gone on, I've associated it with the first step I took in learning to love myself again."
Brian's tattoo was her own artistic design. Initially, she created the work with just planets and the moon, but when doodling one night, she ended up adding an astronaut and turned the moons and planets into balloons. While creating the design was easy, actually getting the tattoo was the hard part.
"On the day I got my tattoo, I got it with my boyfriend, Seth," Brain said, "The tattoo for sure hurt. It wasn't unbearable but the most painful part was when the tattooist had to tattoo on the ribs versus in the space between."
Although getting the tattoo hurt, Brian says she wants to add other tattoos in the future, especially if they are her drawings.
"I do plan on getting another one though I'm not entirely sure of what," Brian said. "I do know that I will want it to be artwork I've done and I know I have always liked big pieces."
Kylie Jenkins
For Junior Kylie Jenkins, her tattoo is a constant reminder of her past and who she is now based on the people who have affected her.
"My tattoo is a cross, a heartbeat, and a heart. It also says 'faith, hope, and love,'" Jenkins said. "There is a lot of personal meaning behind my tattoo. The cross and faith represents my family's religion, which, of course, is Christianity. The heart and heartbeat represents my grandfather, who was one of the closest family members I had. He died of a heart attack when I was little, so I wanted to always remember him. The love, hope, and heart represent my family, in general, and the unconditional love I have for my family and my family has for me."
While some people say set a special day for getting their tattoo, Jenkins experienced getting her tattoo like she experienced any other day.
"I got the tattoo in February of last year on the 17th. The day was nothing special, just a day we had set for me to get it. It's kind of embarrassing, but I went to get the tattoo with my ex-boyfriend," Jenkins said.
Jenkins wants to get another tattoo even though she did not get the best reactions from her first one.
"In general, most people were shocked that I had gotten a tattoo but loved how it came out," Jenkins said, "I want another too. It would be a shaded outline of the animated character, Stitch, with blue and pink portions on the outside and the word 'ohana' below it."
Andrew Warner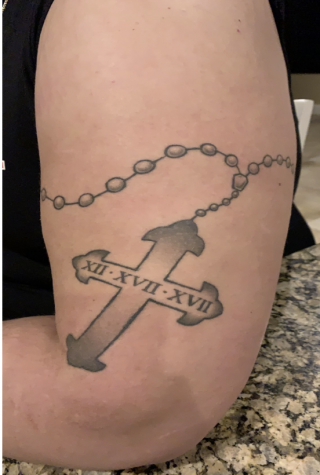 Like Jenkins, senior Andrew Warner's tattoo pays homage to his faith and the year in which he found God.
"My tattoo is a rosary and it's on my left arm," Warner said. "The special meaning behind it is the date it has in Roman numerals. They stand for when I got baptized in 2017. That year was big for me because it is when I completely changed my life and found God." 
Warner said the inking was painful, but he still wishes to get more tattoos in the future.
"When I got the tattoo at Irish Ink, it hurt at first but then my arm went numb after a while. You don't really feel it after that. I'm thinking about getting another tattoo in the Fall, but I don't know what it will be yet," Warner said.
Meg White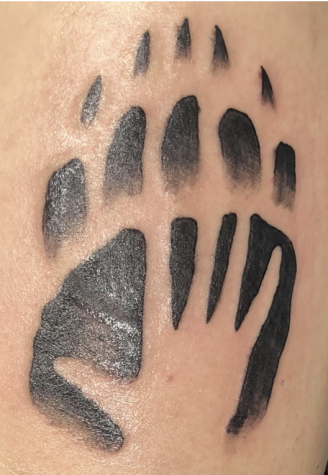 Senior Meg White's tattoo commemorates the bond between her family. 
"My tattoo is the symbol from the movie Brother Bear and it is a human hand inside of a bear paw," White said, "It is dedicated to my sister because we got the same tattoo. We grew up on Disney and the symbol is about siblings, [which is why] we got it."
While White plans to have multiple tattoos in the future, she wanted her first one to be personal. 
"I have always wanted a tattoo and I am trying to get a sleeve on my leg, but I wanted my first tattoo to mean something," White said. "The only permanent people, I believe, in my life are my mom and my sister. I figured if I can get a permanent tattoo for a permanent person, I should do that."
The day White got her tattoo was significant as well because both her, her mother and her sister got their corresponding tattoos that day.
 "My mom, my sister and I all went together to get our tattoos on the same day," White said, "My mom got three bears, one Mama bear and two baby bears, walking towards her heart, and my sister and I got the same bear paw with a human hand inside of it tattoo. It was a big bear theme that day. I don't know why, but we all got bear tattoos that day."
While she said it would always be one of her cherished memories, White did have a setback in celebrating the day.
 "The tattoo hurt a lot, so after getting the tattoo everything else was a blur," said White. "I actually almost passed out when getting it. It felt like a sunburn was being scratched by acrylic nails. The tattoo artist was very nice and made me comfortable the whole time, so when I apparently got super pale, the tattooist got me a wet paper towel and made me wait for a little bit."
Though White had a difficult first tattoo experience, she still wants another.
"I am planning on getting my next tattoo on my 18th birthday. I am going to get a tattoo of a graffiti piece of the Berlin Wall that says 'Act Up!'," White said.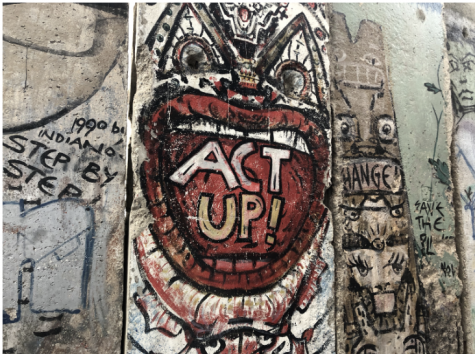 Alexa Shelton
Senior Alexa Shelton got her tattoo to pay homage to her late grandpa and the bond the two had. 
"My tattoo is for my grandpa, and it is the date of his death. We had a really close bond and getting the tattoo reminds me of him," Shelton said. 
Shelton said getting the tattoo helped her accept her grandpa's death.
"There wasn't really a special story of the day I got my tattoo, but I did feel like getting it made me finally come to terms with my loss," Shelton said. "I got the tattoo with my mom and my dad. They supported me getting something to remember my grandpa by."
Shelton said she did not feel a lot of pain from the tattoo procedure and thinks that getting another tattoo is in her future.
"The tattoo didn't really hurt that much because it is pretty small," Shelton said. "I think that because it didn't hurt, I might get another tattoo. My next one will probably be of my dog, because I, again, feel a special bond with my dog."
Blake Smith
Senior Blake Smith has seven tattoos.
"I have two tattoos on my shoulders: one is a lion and one is a tiger. [I have] a fox on my chest, a little star night design on my side, an Illuminati sign right in the center of my chest, and two on my neck," Smith said.
Unlike others who got inked, Smith did not have a special meaning or reason behind getting any of his tattoos. 
"I get all of my tattoos for fun," Smith said. "There is no special meaning for any of them. Three of my tattoos were actually done by friends and four of them were done in a parlor. Two of my tattoos I had wanted for a long while and had to go through the tattooing for six hours straight, which was fun. The other ones my friends just asked me 'Do you want a tattoo?' and I said yes."
While the tattoos have brought some stares and even skepticism, Smith said they are real and are now a normal part of his life.
"At first, people thought my tattoos were fake, especially the Illuminati one because it's purple and not a lot of people thought I would get an Illuminati tattoo," Smith said. "It's just another thing, really. Most people never ask about it."
Despite others being concerned with the amount of pain it takes to get a tattoo, Smith says this is not a problem for him.
"One of the misconceptions that some people have about tattoos are that they hurt a lot," Smith said. "There are certain parts of your body where getting a tattoo hurts a lot, which is over bone, but most of the time it's not that bad. In the future, I'm definitely getting tattoos all over my body. I don't really care if they 'hurt' or what they are. I just want to cover my body."