Boys Tennis season opens tonight against Park Tudor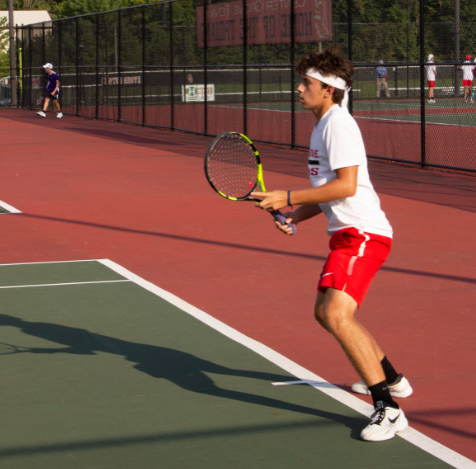 After graduating four seniors, the varsity boys tennis team will be looking for first-time varsity players to step up when they take on Park Tudor in the opening match of the season tonight at 5 p.m. 
"It's going to set the tone for the rest of the season, and it'll show how we match up against the rest of the teams," senior Mason Runkle said.
With a 20-11 overall record, Runkle will lead the team at No. 1 singles. Last season, Runkle was one of five players who made the All-Johnson County team. But with a new varsity lineup this year, the team will have to adapt and showcase a strong performance tonight.
"We've definitely had to make a lot of changes to our lineups because Grant [Herron] stopped playing this year," junior Landen Finlinson said.
In addition to losing Herron, who was No. 1 in doubles along with alum Nick Ballesteros, the team lost No. 1 singles player Trey Thixton, Mitch Runkle and J.T Embry, who all graduated in the spring. With their new lineup, all the players hold a key role in getting a win for the team tonight.
"The key to winning is to win 2 and 3 singles, and we need to win a doubles point," Finlinson said.
In the two teams' last match in 2018, Park Tudor won 3-2, picking up wins at No. 1 and No. 2 singles and No. 1 doubles. The two teams finished last season ranked just one spot apart, with Center Grove finishing at No. 5 and Park Tudor at No. 6. 
"Every year they're consistently consistent," junior Luke Embry said. "There's never a Park Tudor team that's just outright bad. Almost all their players are coming back."
While most of Park Tudor's lineup is returning, they have also graduated two players who won the state doubles title last year. Runkle is confident his team can win if players focus on their individual performances.
"We're going to try to attack them any way we can," Runkle said. "We'll take our combined energy and put it into our own match."
A victory against Park Tudor would show other teams in the conference that Center Grove is still competing at a high level despite its new lineup. Winning its first match would also help the team build momentum for a strong season and the county tournament. 
"We usually play [Park Tudor] pretty early in the state tournament," Finlinson said. "They're a pretty good gauge for how good we are. If we can beat them, it proves that we're a pretty formidable team."