Students visit Indy Comic Convention over Labor Day Weekend
From Friday, Aug. 30 to Sunday, Sept. 1, Indiana Comic Con took place in the Indianapolis Convention Center downtown. People–including a number of CG students–gathered to buy cool comic and pop culture items, show off their cosplay and meet celebrities.
"I love meeting all the people there are and connecting over different fandoms," Alissa Gibson said. "It also became a tradition for me and my friends."
Many friends get together to cosplay, or dress up, and often act as some of their favorite characters from anything in pop culture, just as Gibson and a few others did last year.
"I didn't cosplay this year; I just wanted to look for some comics," Gibson said. "But last year I went as Bellatrix Lestrange and Roxy [Powell] was Ginny Weasley. Natalie [Bender] went as Luna Lovegood because we met Oliver and James Phelps, most commonly known as the Weasley Twins. It was really really fast. They kept the line going and it was just kind of like 'okay, take the picture and move along.' I did ask for a hug while crying, so that was an experience. It was very surreal to see two of my childhood idols right in front of me and seeing them as these real life people. It's kind of overwhelming too."
Charles Dowell had a similar experience this year when he met Bob Camp, the creator of Ren & Stimpy.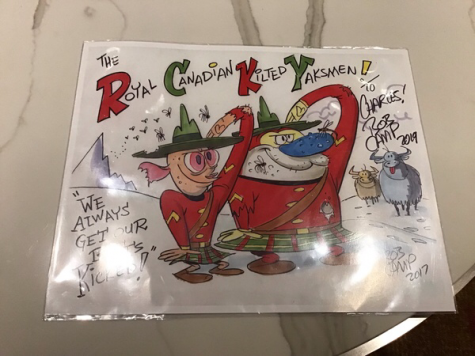 "I felt nostalgic when I saw the Ren & Stimpy booth because I grew up watching the show and laughing really hard sometimes," Dowell said. "I actually had three of their orange VHS tapes." 
Dowell got a Ren & Stimpy poster signed by Camp, but while meeting him, Dowell also did something to show off his love for the show. 
"Actually, I sang the Royal Canadian Kilted Yaksmen national anthem," Dowell said. "That's how much I loved the show."
According to an article in the "Indy Star," 55,100 people attended Indy Comic Con in 2018, continuing the steady growth the convention has experienced since it first began in 2014. Students who have interests in comics or TV shows should consider attending, according to Gibson.
"I think you have to have certain interests to enjoy [Comic Con]," Gibson said. "Personally, I didn't enjoy it the first time I went because I wasn't super into everything. But I got more involved in comics and TV shows and it was more enjoyable."