Environmental Club holds first meeting
New club takes action, advocates for greener schools
The Environmental Club, a new club this year, had its first meeting after school today. Seniors Ian Kelly and Jonathan Jeffries, creators of the club, hope to spread the message of creating a "greener" school and community.
"The reason why we created this club was because we see all the stories about climate change and pollution," Kelly said. "We thought that there was a need for it as the environment becomes increasingly more important. There needs to be some outlet at our school to talk about the environmental problems the world is facing."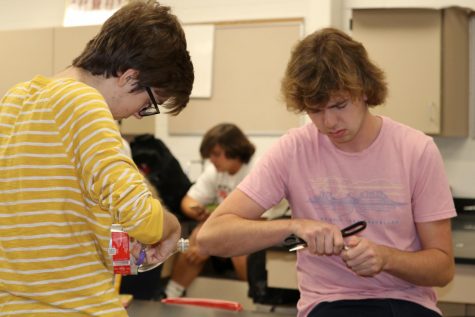 The Environmental Club has already started recycling programs within the community. The club started collecting bottle caps last year. However, because the club did not have a teacher sponsor, it could not operate efficiently. 
Jacob Burskey, science teacher new to the high school, has become the club's sponsor, and the members are planning new projects to help the environment. They are arranging for trash pick-ups and other recycling projects, such as expanding bottle cap collections to the community. 
This October, members plan to make planters out of recycled two-liter bottles. These planters will grow milkweeds, an endangered Indiana-native wildflower. Students will be able to take home these flowers and contribute to the effort to bring back the milkweed.
"Later when I head off to college, I plan on majoring in ecological science, or something to do with environmental sustainability," Kelly said. "I hope this club evolves because it is a way for anyone with an interest in nature preservation or studies to get experience."