PSAT day schedule allows students flexibility
As cars filled the parent pick-up lane and students piled into the Hall of Excellence, Early Release Wednesday was given a new meaning in light of the PSAT. Wednesday's usually mean early release, but on the morning of Oct. 30, that early time was over two hours earlier.
"I am happy to leave early so I can hang out with friends," Stacey Schomer '21 said. More than 1,250 students left after the test to enjoy the rest of a school-free day.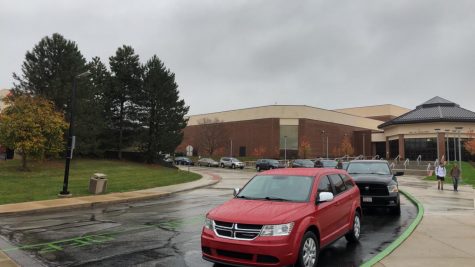 While leaving early was a highlight for some students, the actual test still had an impact. The PSAT provides lengthy data about students' academic strengths and weaknesses and prepares them for the SAT, and it also qualifies juniors for the National Merit Scholarship program.
"It was good," junior Paige Waskom said. "It prepared me for the actual SAT test. It was boring, but I'm happy it was a requirement."
For the first time, freshmen were required to take the PSAT test.
"We felt like students would get more information out of taking the PSAT rather than taking NWEA three times a year," Assistant Principal Tracy McMahen. "We also liked the remediation through Khan Academy that can be individualized."
Though the four hours of testing might have seemed long and boring, the extra time off and the information provided by the test gave students what they need.