Sophomore sews her own clothing, makes homecoming dress from scratch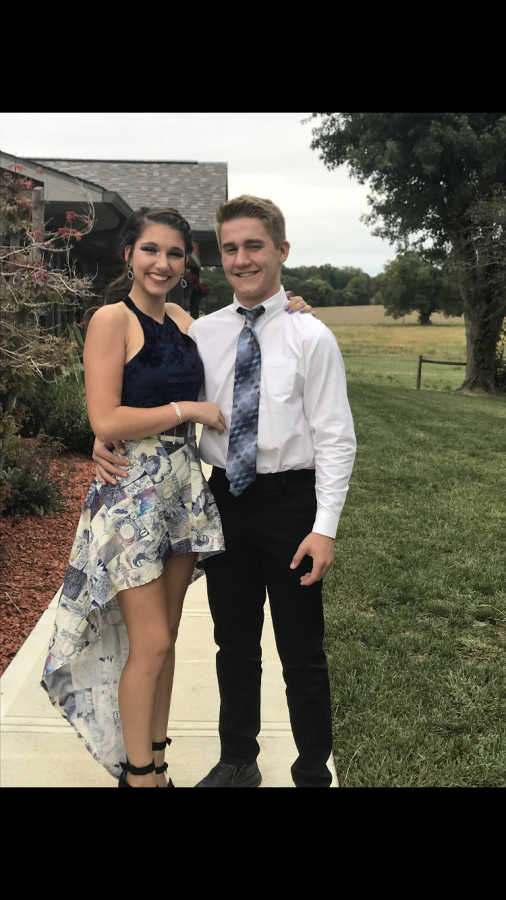 While many students buy homecoming dresses online or at the mall, sophomore Awendela Perez designs hers from scratch.
"My favorite projects are always my dresses for the dances," said Perez. "I just think they are so fun and it's rewarding when you come to the dance and everyone is just so excited about it."
Perez's homecoming dresses make up a large part of her current projects, but she has been sewing for years. Perez first learned how to sew in elementary school while she was living in Fairbanks, Alaska.
"My parents' friend, Megan, was super into sewing and talked to me about how she likes to make her own dresses and stuff like that," Perez said. "I just thought it was really cool. I had the idea of making my first Halloween costume. I'm obsessed with "The Wizard of Oz," so I made a Dorothy costume. We worked together and that was the first dress that I ever made. I was really excited to see what people would say when I went trick-or-treating."
Since her first dress, Perez has sewed countless clothing items. She says the homecoming dress she most recently made, though intricate, was not difficult.
"The one that I made this year was surprisingly not hard at all. I got the idea when I was looking online and saw this beautiful, white, lace cocktail dress. I wanted to make one just like it, but rose gold and with lace that looks like it's melting into the skirt. I sketched it in my design book and later went to go buy fabric. At the store, I found pretty silky pink fabric and then had to match the lace to the pink to make sure it looked good together. I found lace with really pretty pink flowers, but it wasn't as heavy of a lace as I wanted," Perez said. "I was just making up the pattern as I went along because I had to change my designs to work with the see-through lace and I couldn't get it to lay the way I wanted. I started talking to my mom and she mentioned that she thinks deep V-neck dresses are really pretty. I tried her idea and it ended up looking really good. However, I didn't want to feel over-exposed, so I put some line straps in the 'V' to make it classier. I then worked on the skirt which was a little bit tedious because I had to re-measure and cut a bunch off. Once I got it on, the dress looked really good."
In addition to dresses, Perez has made scrunchies, embroidered and hemmed clothing, and even her own pair of jeans.
"I made these mom jeans because I've never had a pair of mom jeans before and I didn't really like the style of them until the end of last year," Perez said. "It was my first time ever making pants and I made them for a project in Fashion and Textiles II. I saw this really cute zipper that had a little circle on it; I just thought it was the cutest thing ever. I put it on my pants and then I realized 'Oof, big mistake' because the little flap that covered my zipper didn't work with the big hoop. I had to end up ripping my zipper off, so now it's just a little nub on my pants and I don't even have a zipper anymore. Those pants were just a mess, but I still wear them."
After high school, Perez plans on going to college to become a fashion designer and possibly start her own business in the future.
"I'm taking the Fashion and Careers class [senior year]," Perez said. "I want to go to college to major in Fashion Design and minor in Business," Perez says. "I'm taking Principles of Business and Marketing right now and Accounting next year so I can succeed in owning my own business. I've been thinking of starting my business up on a low scale and if it gets big, maybe move somewhere like the mall, but I have a few more things I want to get together before I start it officially."