Senior uses own business to create free grocery delivery service and support local businesses
April 1, 2020
Quarantine and COVID-19 have made life difficult and daunting for many, especially the elderly and immunocompromised. Senior Dylan Godsave has taken this problem and worked to create a solution by creating Southside Delivers, a website dedicated to delivering groceries for free and supporting local businesses.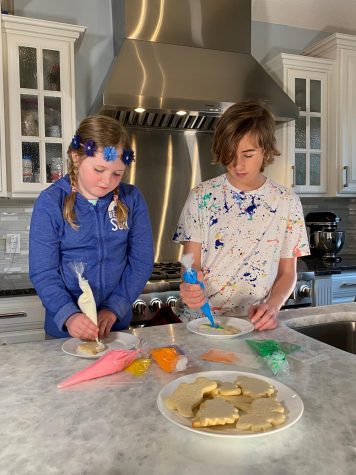 "We designed [the website] aiming to help people that are at high risk of getting the virus or older people and it's a resource for them to get [services]," Godsave said. "What's also really cool about it is that we've teamed up with some local businesses. The biggest one we've teamed up with is Coffey Connections. We've uploaded a lot of their products, [like] some senior shirts, some 2020 shirts, some quarantine shirts and just some general CG spirit wear. We're really urging the community to go on there and shop with local businesses just because at this time there's not a lot of traffic flow in their shops. Also, a portion of the products sold are going to help us make the delivery service free just because there are lots of operating costs."
Godsave has several other businesses he manages that he has pulled upon to make this new venture a reality. 
"Normal business [for me] hasn't changed at all. We've just been prioritizing Southside Delivers," Godsave said. "My other businesses mainly include web development and content management, domain set up [for custom email addresses] and Casual Cosmetics [which sells bath bombs and more]. I'm using a lot of my Casual Cosmetics resources to run this new website, including staff, infrastructure and then obviously my web development skills."
It was from this staff and business that the idea to start Southside Delivers arose.
"I was actually in a meeting three or four days ago and someone was like, 'What are we doing to help out with this whole situation?'" Godsave said. "And so that kind of got my brain thinking that one of the biggest things that people are struggling with right now is grocery delivery. So from there, we started kind of putting together the ideas of how we wanted to do it, and I think one of the biggest challenges for anyone is having an amazing idea but making that amazing idea happen. But from there, we assembled the team, with a couple of Center Grove students and a couple of IU students. [We also] worked very closely with Coffey Connections, and my team started creating the website. To build a website, it usually takes us about a week and a half to two weeks to build, and this one we built in under 24 hours."
"
To build a website, it usually takes us about a week and a half to two weeks to build, and this one we built in under 24 hours.
— Senior Dylan Godsave
Despite the quick turnaround, Godsave and his team were able to get it done. Starting April 2 at 10 a.m., the website will be taking delivery requests and helping provide a needed service for those most at risk in the community.
"It's hard for people to stay home and not leave their house, and there's honestly not a whole lot of everyday grocery delivery services that can get you your groceries super quick," Godsave said. "What we are starting to do is use the map on our website under Grocery Delivery showing exactly where we are offering the services. Then, if your [delivery] form is placed out before noon, we're delivering it the same day, subject to availability, and of course, if we get overloaded then we'll adjust from there. If your order is placed after noon, then it'll be delivered guaranteed the next day. But of course, if we're able to get it to you the same day, we'll try our very best to do that."
In addition to delivery services, the website houses blog posts, including Netflix recommendations, activities to do with children, recipes and more. The products available to buy under the "Local Shops" page range from spirit wear to cookies to DIY Starbucks kits. All come from local businesses as the website aims to help those in the community who are struggling with the lack of customers.
"The grocery delivery is designed for people at high risk, including older people and people with not the best immune systems, but I think a lot of people have been asking, 'what can I do?'" Godsave said. "I think people want to help but they just don't know how to help. So the way that we have designed it is so people can go to [the website], purchase goods from local businesses and that helps them to continue to function [because] there's not a lot of people out right now and they're just trying to stay alive."
While the website was created on the idea of free grocery delivery, Godsave stresses that the website is more than that and hopes that it is able to become not just for those at risk but those who want to help.
"I really want to encourage people to go out there and shop with these local businesses because overall it's supporting our community," Godsave said. "If you think about it, [like] I mentioned Coffey Connections, they're the ones who sponsor lots of kids and athletic shirts. You'll see their logo or 'sponsored by Coffey Connections' on the back, and if we didn't have that business then we wouldn't have those shirts. I think it's very important to help the people that help our community every day." 
To find activities, recipes, recommendations or to shop locally, visit the Southside Delivers website here. Delivery services will open on April 2nd at 10:00 a.m.