Creativity during COVID
How students have used art to cope with quarantine
As the unprecedented shutdown of many societal norms continues due to the COVID-19 pandemic, students at Center Grove are among the countless individuals who are having to adjust their own routines. Several students have looked towards the endless opportunities presented by art to cope with the situation. 
"Artists are currently studying the emerging symbols that are becoming our norm," Heidi Shackleford said. "Examples could be masks, glass barriers, hand sanitizer, etc. They are brainstorming, photographing and making visual lists of the effects of this crisis on their loved ones, communities and the world. Then they journal and sketch and put these ideas and symbols in visual compositions that others can identify with."
The artists of CGHS have used many of these principles to cope with quarantine in their own way.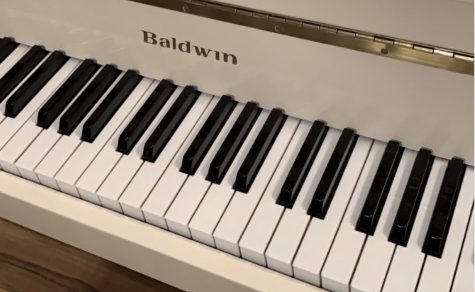 Piano during a Pandemic
The quarantine has interrupted much of what freshman Brady Ripberger considers to be normal, like being with friends or practicing baseball. However, in an attempt to keep one aspect of his regular procedure, Ripberger has turned to his longtime hobby of playing the piano.
"It kind of gets my mind off of the things I could be doing if we weren't in quarantine," he said. "It also helps me because it's something I usually do even without quarantine, so it helps things feel a little more normal."
Ripberger tends to play in the morning or at night, the times he finds to be the most quiet, and he can play the keys without being disturbed.
"I typically play piano after work, or sometimes throughout the day. The best time to play is the morning or before bed because it's calm and quiet. Typically I play pop or hip hop, but I can play country, older songs, [and] most genres," Ripberger said.
Ripberger started playing the piano as a four-year-old, which he has found relaxing ever since. 
"I started playing piano because I have always had social anxiety; piano was a way to escape from the stress surrounding me. It's really a way to show my emotions in a non-verbal way."
He has continued to express his feelings through the instrument during the quarantine, specifically about missing his friends.
"It helps occupy yourself and keeps your mind off of missing friends and going out like normal. And, personally, if I don't distract myself, I get sad thinking about friends I miss," he said.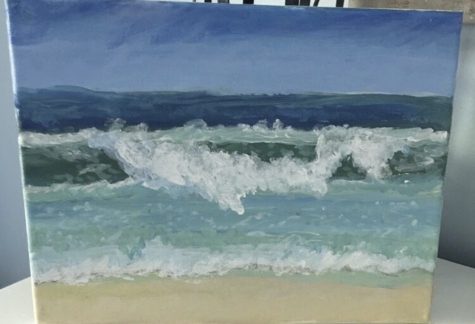 Canvases and Crafts
One impact COVID-19's clearest impacts is suddenly and uncontrollably shifting people's time and schedules. While students can no longer spend time with friends and extended family, they now have an abundance of free time that can easily slip away. Freshman Maddi Sponsel decided to make use of this time to reconnect with her creative nature.
"I've always been crafty, but haven't had the time. Because of quarantine, I've started painting again, which I hadn't done in a while," Sponsel said. "It's given me something to do besides sit on my phone all day and helps distract me from what's going on."
Along with the canvas painting, Sponsel has also been creating personalized crafts to let her loved ones know that she is thinking about them.
"I've done a lot of crafts such as flower bouquets with homemade cards to deliver to family [and] friends," Sponsel said.
For Sponsel, the crafts started recently as a way to repay kindness.
"We had gotten some nice things delivered to us, so we wanted to return the favor. We rang the doorbell and ran, [so] I'm not sure if everyone knew who it was, but those who did loved it," Sponsel said.
She plans to continue this practice of gift making and giving.
"I did make something for my mom for Mother's Day, and I'm currently working on something for my friend's birthday. [My mom] was very excited and loved the thoughtfulness of it," Sponsel said.
Sponsel has started to use this creative outlet to regain the sense of structure and use of time that coronavirus has changed for so many.
"It's really helped [preventing] each day [from] being a repeat of the last. I have a 'schedule' of things I want to work on each day, and it helps change it up a little bit," Sponsel said.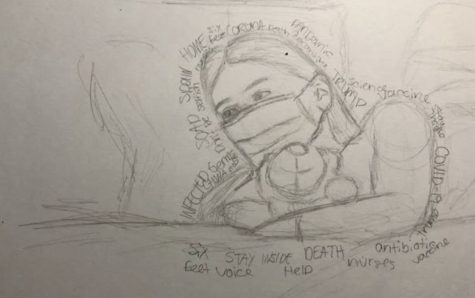 Drawing Inspiration
Sophomore Emma Matlock has been taking advantage of the artistic inspiration spawned by the pandemic to express the general consensus of the population while developing her skills as an artist. One such coronavirus-related piece by Matlock is a work in progress depicting the virus' coverage in the media.
"They're related to the coronavirus because I try to put a piece of what you'd see on the media into each drawing. For example, the drawing I've been working on and putting the most effort into has a girl laying in bed wearing a mask with words like 'nurses', 'stay inside' and 'six feet' around her," Matlock said.
Matlock even believes her work has helped her see the pandemic differently.
"It's helped me to see how important it is to stay inside and social distance so [that] others [and] myself don't catch it," Matlock said.
Matlock said quarantine has allowed her to push the boundaries of her artistic ability. 
"I've been working on a few things that I'm not usually good at that [aren't] generally related to the coronavirus, too," Matlcok said. "For example: landscapes. Those aren't really my strong suit, but working on it during quarantine has definitely helped me as an artist."
Matlock thinks that having a project to work on that improves your artistic skills can be the key to coping with quarantine. 
"It definitely keeps you sane. I think a lot of artists cope with what they're going through by putting it into some sort of an art form, which is very common in art. I think it's also important to have something to work on because you can also really easily expand your skills and knowledge of art," Matlock said.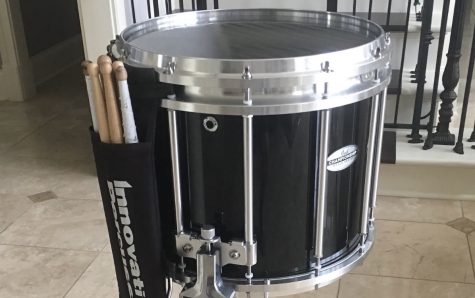 Focusing on the Beats
For junior Preston Carroll, playing the snare drum is a therapeutic blend of beats and rhythms that takes his mind to another place.
"Practicing the snare drum while listening to music just takes my mind off school stress and allows me to just focus on the moment and appreciate the skills and talents I have," Carroll said. "It just helps me clear my mind, and I play sometimes during e-learning to just push a restart button and refocus."
Focus is something that is important to Carroll, who stays focused on developing his talents as a musician.
"It's important to keep practicing because once you stop, you lose skills that you have built up previously," Carroll said.
It is this commitment to developing his skills as a drummer that Carroll brings to the CGHS marching band, which he is continuing to honor during the quarantine.
"Well I practice off and on a lot throughout the day, and before I start to do something I start with a basic exercise or two. This is just to warm up my hands," Carroll said. "[I practice] a lot. From rehearsals, sectionals, and my own practice time, the majority of my work is focusing on getting better with what our school does best."
To do this, Preston Carroll likes to push himself with increasingly complex rhythms to hone his skills as a drummer.
"I like complex patterns and rhythms, and working at something hard until I get it. I play anything from easy and technical, to some[thing] hard that takes some time to work out," Carroll said.
Carroll plans to continue practicing the snare drum during the quarantine to focus on his skills as a drummer and to keep his mind focused.
"…I have practiced every day during quarantine. I keep practicing because it is a skill I enjoy developing, and it takes my mind off things when I need a break," Carroll said.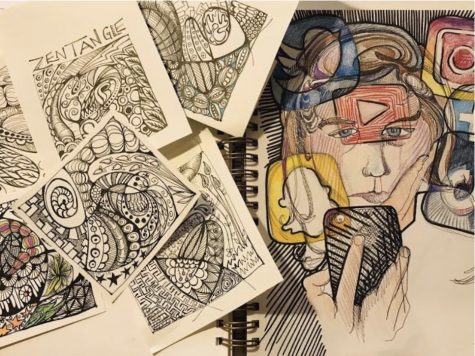 For Shackleford, embracing one's creative side, just like Trojan students have, is integral to the health of individuals and the world.
"If you can let go of the fear of comparison or the weight of always having to accomplish financial prosperity with your actions, then you will find that the moments of creativity are good for the soul! Drawing, sewing, sculpting, photographing, weaving, cooking, baking, dancing, writing, sketching, journalling, singing, composing, playing the piano, welding, fixing cars, repainting signs, collaging are just a few ways that you can be creative," Shackleford said. "They are breaks in your life to use your hands and minds to accomplish something just for you in order to express your own thoughts. These personal accomplishments are important to your overall health."
She recommends that everyone use this time to communicate their emotions on the crisis through the many mediums of art.
"Use this time to learn something new. Most of us are not given the gift of time like we have right now. Use it to your advantage. This will not last forever. For me, journaling/sketching go hand in hand. It is a good way to get my thoughts of any kind down on paper. I use it to process ideas, thoughts, concerns and dreams. Right now, while you are not surrounded by what most of us fear, judgement and comparison, you should try something new! It's good for your soul," Shackleford said.