CG Teacher Makes a Difference by Getting COVID-19 Trial Vaccine
According to the Centers for Disease Control, 971,000 people worldwide have died from COVID-19, enough to fill Lucas Oil Stadium 14 times. In an attempt to find a vaccine and eventually lessen the severity of the virus, Moderna has recruited a series of volunteers to evaluate the "efficacy, safety, and immunogenicity of 'mRNA-1273.'" Forensics and Biology teacher Danielle Myers decided to sign up to be a participant in the vaccine trials.
"I, as I am sure many others are, am ready for this pandemic to come to a close. I wanted to do something, anything, that would help bring about a much needed solution," Myers said.
Myers originally heard about the vaccine trials from Channel 13 News. After doing some of her own research, she decided to make her first appointment in Cincinnati, Ohio –the closest clinic she could find.
"I made the call to the clinic, answered a series of pre-screening questions and then made an appointment for a physical screening on August 20," Myers said.
When it came time for her first appointment, Myers was enthusiastic to get started.
"Honestly, I wasn't [nervous] at all. I have been studying biology since I was 16 years old in high school. It has been the focus of both my undergraduate and graduate studies in college. I understand the process behind vaccine development, and I understood the nature of the mRNA-1273 vaccine that I would potentially be receiving as part of the phase three trial. If anything I would say that I was excited," Myers said.
Myers has now received three doses of potential vaccine treatments; however, phase three was a blind trial, meaning that participants will never know for certain whether or not they received a vaccine or a placebo.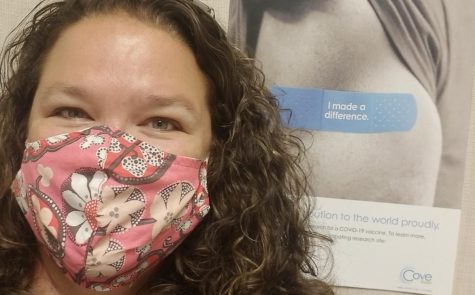 "That information will never be released to me, so I will never factually know if I was in the vaccine group, or the placebo group; however, as the recipient of many a vaccine in my day, including chicken pox, TDAP, MMR, Yellow Fever and Typhoid, I can tell you that I am fairly certain I am in the vaccine group," Myers said.
After the vaccine is given to a participant, Moderna documents many symptoms, including the number of participants with a "First Occurrence of Severe COVID-19 Starting 14 Days after Second Dose," and Moderna also tracks other side effects that the participants display.
"After the first dose the only side effect I experienced was a prolonged headache and some fatigue the day after the vaccine. After the second dose, those side effects were much worse. I had a pounding headache that started Friday around 11 a.m., my whole body was tired like I had been up for five days straight, and the knuckles of my hands felt suddenly arthritic," Myers said.
Moderna is one of the five major companies that are currently capable of creating a successful vaccine. After the genetic information of the coronavirus was sequenced and uploaded into a public database, scientists identified a protein known as "spike protein" that is used to protect and fight the virus. The instructions for making "spike protein" are found in an instruction molecule called mRNA, which can then be given directly to patients as a vaccine.
"As a biology teacher, I believe in the science behind vaccine development, and I felt that participating in this historic vaccine trial would not only give me that chance to be part of the solution, but would also provide some very interesting conversation starters in class," Myers said.
A number of factors, including changes in regulatory protocols to technology advances, have made the development of this vaccine different than those created previously.
"What makes this approach different is that you don't need to make the virus itself in order to make a vaccine, which is a time consuming and extensive process," according to ModernaTx. "Instead, you use the information from the virus and administer the information directly to the patient. Essentially, the patient makes their own vaccine. Using this approach, Moderna was able to go directly from sequence to a vaccine ready for human testing in record time— just 42 days."
Myers knew that in order to further speed up the process, Moderna and the other companies desperately needed healthy individuals to test out the vaccine, and so she decided volunteering was the right thing to do.
"For months I had been hearing from friends, family, neighbors, former roommates and strangers how the shut down due to COVID-19 has impacted [them], and for the majority, negatively impacted their lives. For me to have a chance to be a part of a historic vaccine trial that hopefully leads to a vaccine (even if it is just one vaccine of several, or even if it proves ineffective) that brings an end to this COVID-19 era of frustration, I was all in," Myers said.