Girls basketball opens season on road against Franklin Central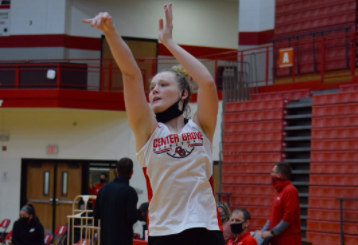 Center Grove will be looking for one thing in their season-opening game against Franklin Central. Revenge. 
After posting an 18-5 regular season record last season, Center Grove lost by four points to Franklin Central in the sectional final after being considered the heavy favorites. 
Senior Mary Wilson, who was the team's leading scorer last season, was motivated all off-season by the loss. 
"Losing sectionals motivated me to not take anything for granted," Wilson said. "We won sectionals the previous two years and we were favored to win last year. This year I have more of a desire to play with grit and not take anything for granted." 
Head Coach Kevin Stuckmeyer believes that rebounding and controlling turnovers are important to the team's success.
"Turnovers and offensive rebounds are a definite focal point, and have been since we began practice," Stuckmeyer said. "They are always keys to our success and important for our players/coaches to make a priority. If we can control the defensive glass and create quality scoring opportunities on offense, then we always give ourselves a shot at winning." 
While Franklin Central graduated leading scorer Rachel Loobie, they will likely look to their second highest scorer from last year, sophomore Rayah Kincer, as their anchor. Kincer averaged over 10.6 points per game  and 1.9 steals per game which are the highest of any returning player. Kincer should throw a wrench in Center Grove's ball movement, especially for a team that gave up 24 turnovers against Avon last Thursday in their scrimmage.
Sophomore Emily Karr thinks Kincer will be a tough matchup but should be manageable if they follow the game plan. 
"Keeping up with Kincer on defense is just going to be keeping her in front. She is a good driver but if our defense is done right, even the best drivers will have a hard time," Karr said. "I know [Kincer] is a good defender, so I'll know to use my pull backs and attack her hip." 
While both teams suffered graduation losses — Center Grove graduated four starters and Franklin Central three — the Trojans do return Wilson, their leading scorer from a year ago. Assistant coach Ryan Hendryx believes this team has a lot of strengths despite the loss of seniors.
"We have a lot of good guards and screen setters, which will be very good for us," Hendryx said. "We also have a good group of seniors who are really great leaders for this team." 
Karr believes that Wilson will be a key to a successful season opener.
"On offense and defense she is an overall great player," Karr said. "Mary is a very selfless player and will contribute to every aspect of the game, helping others along the way since she knows almost every position."
A win would let the young team start off on a new note after a disappointing sectional loss. This win would also allow Center Grove to get the young team a look at winning, and Stuckmeyer knows the importance of this first game. 
"It is always important to start the season off strong," Stuckmeyer said. "We need to compete at a high level against Franklin Central.  They are a quality opponent and a team in our sectional, so it will be important to play at a high level to begin the season and start it off on the right foot."