Learning Online
A reflection on the experiences of virtual students
The effects of the pandemic have impacted the entire student body. In response to the resulting health guidelines and restrictions, hundreds of students decided to enroll virtually for the fall and spring semesters. Senior Myana Pace was one of these students, spending the first semester of her senior year online. While learning virtually, Pace learned more about her personal habits and abilities to work hard and stay motivated despite being in a more enclosed environment.
"One word I would use to describe my virtual experience during the pandemic would be disciplined," Pace said. "I learned how to better adapt and discipline myself in order to work hard for my accomplishments despite obstacles. In this case the obstacle happened to be the pandemic."
As Pace gained resiliency in persisting through her daily experiences, she also persevered through particularly troubling moments in her classes.
"I was very stressed that I couldn't always come in contact with my teachers when I needed help," Pace said. "And because I have two younger siblings who are also virtually learning, I was both the teacher and student at one point."
Additionally, Pace's enrollment in Early College as well as the demands to fulfill dual credit courses motivated Pace to keep up with the heavy work-load. In the midst of these responsibilities, Pace was able to achieve some of her long-term life goals.
"I accomplished getting into my dream school–Purdue University," Pace said. "Especially with a rough ending to my junior year, long nights of over-studying for tests after dance and almost giving up at times, I pushed through so I could be recognized as a potential student for Purdue. Fortunately, I was accepted and couldn't be happier."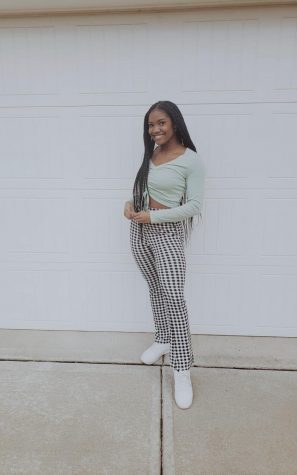 Pace was also given opportunities to enjoy a Senior Night–something she's been looking forward to ever since joining the Varsity Dance Team.
"Although I wasn't able to finish out the season, that one night made up for the remainder of what could have been my ideal senior year," Pace said. "I appreciate my coach, teammates and school for still allowing senior athletes to have their 'last hurrah' during this time."
Pace said she learned the importance of generosity, self-education and selflessness throughout the social turmoil that occurred during the beginning of the pandemic.
"History was made in so many ways during the months of March to December of 2020–the Black Lives Matter movement, rises in cases which affected schools and jobs and the election of the first African American and South-Asian Vice President, " Pace said. "It is wrong to show hatred towards someone based on their race, it is wrong to have attacks on our nation's Capitol because the people decided for a different president and it is wrong to disregard the millions of people who died from the virus because people don't 'feel sick.' If people truly educated themselves and stopped focusing only on themselves, I think many things could've been different."
Pace said, despite these conflicts she witnessed across the nation, that she has personally changed for the better.
"I now understand that the world doesn't revolve around me, and sacrificing is a real, brutal thing that is completely okay," Pace said. "Truly, this pandemic was a blessing in disguise for me."
Similarly, other students perceive virtual learning as both a challenge and a blessing they can pursue in order to intellectually and personally grow. Senior Karla Aello Lizarraga is one of these students who learned how to persevere and remain strong despite multiple challenges brought by virtual learning.
"Virtual learning is an interesting experience," Aello Lizarraga said. "It took some time to adapt to it, especially since the learning platforms were different from Canvas. There were more times I had to self-teach material rather than having a physical teacher explain everything in a classroom setting."
Virtual learning offers Aello Lizarraga a chance to work at her own pace and use her time more efficiently. However, with Aello Lizarraga's workload, virtual learning was also challenging.
"At times, I enjoyed the flexibility I had during my online classes," Aello Lizarraga said. "But at other times, it took longer to understand the material and this was especially difficult for me during my AP classes."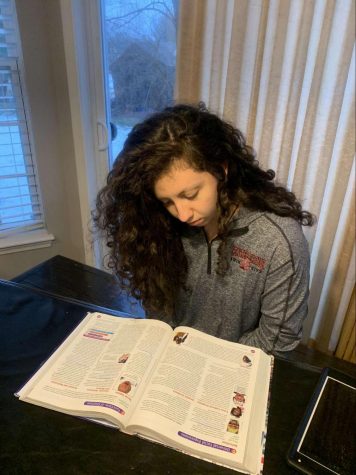 In addition to these struggles Aello Lizarraga learned to endure, she was faced with the devastating effects of the virus, especially on her loved ones.
"A lot happened during my time online," Aello Lizarraga said. "Since August, I've had family pass away due to COVID-19 and have had other family members who now have permanent complications after contracting it that never pre-existed."
Aello Lizarraga said she gained strength as she continued to face obstacles throughout her time online. In response to these numerous challenges she faced, Aello Lizarraga learned to cope by turning to her passion for music.
"Before going virtual, I hadn't played the piano in years," Aello Lizarraga said. "I learned to play when I was a kid but stopped in high school since I no longer had time. Over the course of last year, I rediscovered my love for the instrument as I used it to relax from virtual learning."
Music gave Aello Lizarraga the opportunity to find peace in the midst of the stress, challenges and devastations caused by the pandemic and online learning. Aello Lizarraga was also able to accomplish a goal she'd been pursuing for years.
"I was so proud of being accepted into my dream school a few days after applying," she said. "I've also learned how to manage large amounts of stress efficiently, how to be organized with my work and how to best teach myself."
Virtual learning, although sometimes difficult for Aello Lizarraga, helped her gain personal academic achievements, the discovery of a newly-found love for playing the piano and resiliency in persevering through life challenges.
Even so, other students viewed virtual learning as a beneficial opportunity to pursue their education all while remaining in a safe environment. Freshman Carson Basco is one of these students who enjoyed his experiences learning virtually.
"For me, virtual school is a lot less stressful and more relaxing," Basco said. "I've enjoyed virtual learning since the beginning of first semester, and I would say learning virtually has had a positive impact on my education."
Basco especially enjoyed the flexibility of virtual learning and used his time to focus on taking care of his physical and mental health.
"I've noticed that I've been able to keep higher grades, especially because I can get an extra 30 minutes of sleep and feel less stressed while working," Basco said. "I've been able to maintain a much better state of mental health since school started back up."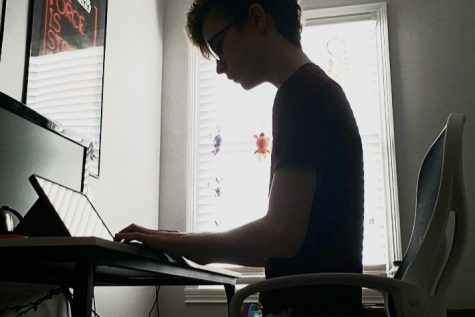 Throughout Basco's virtual learning experiences, he strove to preserve and uphold the personal lessons he's learned thus far.
"I have learned about my studying habits, mainly that I enjoy being able to work at my own pace," Basco said. "I have also learned that everyone is doing their best and you can never blame anyone for something you couldn't have done any better."
Basco will continue to learn virtually throughout the spring semester and hopes his positive experiences will continue until the end of the school year.
Virtual learning has also given students the opportunity to learn more about their personal hobbies and study habits as they adjusted to the new academic environment. Sophomore Siddhartha Chhettry, once virtual, realized learning online may have been more difficult than he expected.
"Virtual school is challenging," Chhettry said. "It is hard to focus on work in an environment where your phone is right next to you."
With endless possible distractions and continuous problems such as these, Chhettry decided to face his challenges one-by-one with solutions.
"In order to focus, I moved myself to a different room to work on my classes, so I won't be distracted by my phone or anything else," Chhettry said.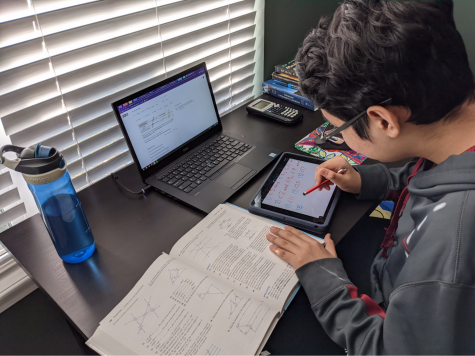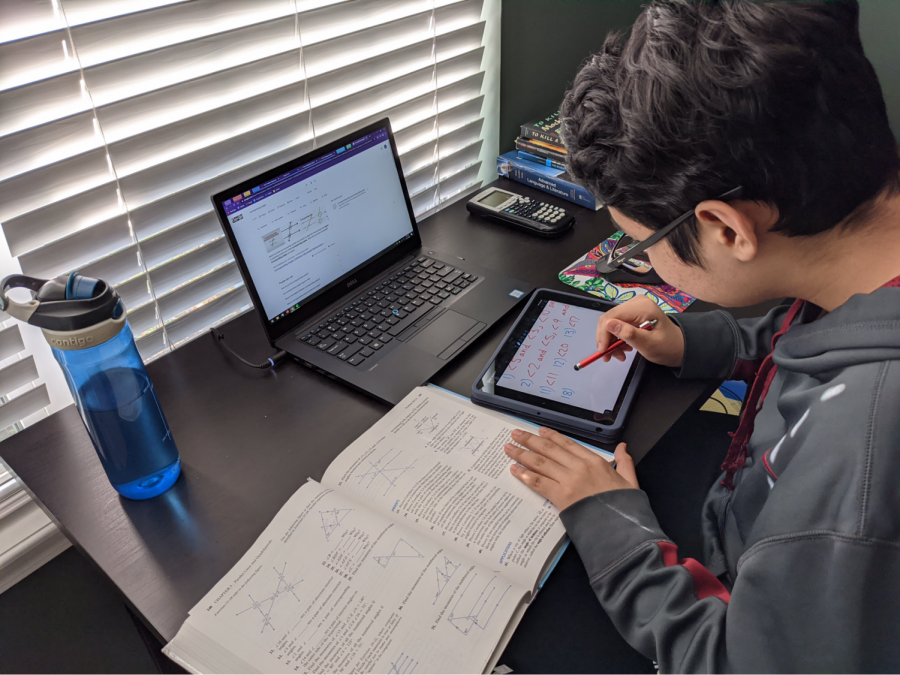 While Chhettry learned how to study more efficiently while learning virtually, he began to appreciate the pros virtual learning offered.
"I enjoy virtual learning because it allows me to go at my own pace," Chhettry said. It has definitely impacted me in a positive way since I can be more independent. However, being independent and going at my own pace can have its challenges. It is very easy to procrastinate since most assignments are due by the end of the week."
Even as Chhettry faced these troubles, he was also able to grow closer with his loved ones during his days online.
"During my virtual learning, I have gotten much closer with my family," Chhettry said. "We spend a lot of time together in the house now, and we play board games or card games every Saturday."
An aspect of virtual learning Chhettry especially embraced was the opportunity he had to pursue more of his personal interests, including his love for playing music and enthusiasm for literature.
"I have recently gotten an acoustic guitar to play in my free time which has been very fun," Chhettry said. "I also have started practicing my violin again and reading a lot of books such as mystery and horror."
Chhettry often reflected on his accomplishments and experiences, knowing his time as a virtually-learning student will help him in the future.
"I have learned many things about myself during this time," Chhettry said. "I learned that I procrastinate a lot, but I try my best to solve that by creating a to-do list for myself every day. Although I may be easily distracted at times by the phone or computer, I can solve this by moving to another room to do my homework."