The Next Level
Sophomore finds success competing in local video game tournaments
Sophomore Nick Thomas was in the heat of competition. His vision narrowed as he focused on his opponent. He was anxious, as this set was for all or nothing. Thomas had worked his way through every match of the tournament and had finally reached the championship game.
However, Thomas was not playing tennis. He wasn't a pitcher, a point guard or a linebacker. Thomas was competing in a local video game tournament. He has played in over 50 of these competitions around Greenwood.
"I really like competition, but I'm not that athletic so I can't compete in sports tournaments," Thomas said. "But video games are something I consider myself to be good at, so I like that feeling of going head to head with someone else. It gives me a nice, satisfying feeling."
These tournaments feature games with mechanics that call back to the earlier days of video games. The Super Smash Bros. franchise, for example, is inspired by the 2D fighting games commonly found in arcades, including Street Fighter. His favorite game is "Skullgirls" due to its competitive depth.
"It's very combo-based, so pretty much you have to learn a bunch of inputs, and it's roster-based, so there's a bunch of different characters, all who do very different things," Thomas said. "It's all about timing and spacing out your opponent. It's very complicated."
To find these events, Thomas signs up online, where he gets information about a location, time and prize pool. Tournaments take place everywhere from bookstores to tabletop game shops.
"You show up, there's a bunch of other people sitting around, they post a bracket on the wall, and someone will fill it out as the matches go," Thomas said. "There's usually a TV set up, sometimes it's sitting on the floor, a console, two rickety chairs. You sit in them, you play, the other person gets really mad when you beat them. It's fun, it's very casual."
Of the 50-plus tournaments Thomas has competed in, he estimates he has won about a fifth of them.
"When I won my first Skullgirls tournament, it was the first big tournament I'd ever won," Thomas said. "It was a very complete feeling, like 'I beat it,' even if it's just a local tournament, and one of the people playing had never played the game before. So it felt a little like a shallow victory, but it was still a great experience."
Emotions run high at these events. After one set, one of Thomas' opponents destroyed a controller in frustration. In another, Thomas felt anxiety due to the skill of his competitor.
"I was so stressed out during that last set because the dude I was playing against was way better than I was," Thomas said. "I remember having 20 million knives, always hitting me, and I never got to approach him because he kept hitting me with knives. I just won based off of luck to be honest. So having all of that release and all the dopamine hit you at the same time, it was a very high-riding feeling I haven't gotten anywhere else to be honest."
Recently, Thomas has tried his hand at "wifi" tournaments that are played from home. Unlike the bookstore games, these tournaments rely on the strength of the competitors' internet.
"It's really hit or miss because it all depends on the other person you're playing against," Thomas said. "Are they going to have good internet or not? Matches are like seven minutes, but because of how long it's taking because of the internet issues, one match took 35 minutes. So it's at five times slower speeds, which is miserable to say the least."
However, Thomas does have some good memories gaming from home. He first started playing video games over 13 years ago, competing with his mother rather than strangers.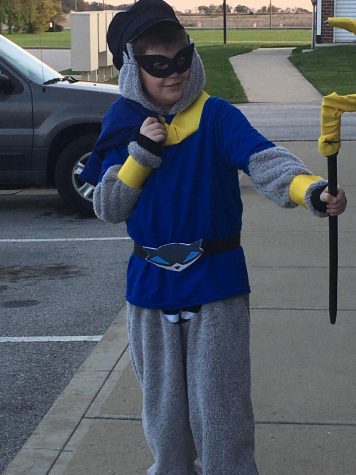 "Whenever I play co-op games, it's with my mom," Thomas said. "There's a game called 'Ratchet and Clank.' I played a lot of it. That was the first real game where I said, 'wow, this is crazy.' After that, I never looked back and just went full into it."
Thomas recalls one instance when his mother helped him to beat the level.
"So my mom bought a PS2 for her birthday," Thomas said. "She has always been a big fan of video games. There was one boss that we were stuck on, so I thought it was a big deal that we had to 'stay up all night trying to beat the boss.' I played it again recently, and it is the world's easiest boss. You press three buttons, and that's it. I'm sure she could've done it real easily."
As Thomas grew up and new consoles came and went, his mother was always there to support his love for gaming, including through his tournament play.
"She was mainly just happy to see me expressing myself," Thomas said. "Watching her play video games is what got me excited to play in the first place –the spark, in short."
It is that support from his mother –that spark– that charges Thomas's continued passion and success while gaming, both competitively and recreationally.