Trojaneer staff honored with two Indiana High School Press Association Hoosier Star Awards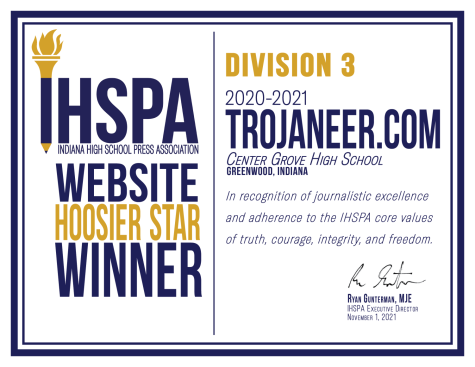 The Indiana High School Press Association announced Hoosier Star award winners on Nov. 1, and Center Grove High School Publications took home two Hoosier Star awards in website and yearbook.
"The Hoosier Star is the highest award a high school publication can earn in the state of Indiana," Publications co-adviser Melissa Warner said. "These awards represent the hundreds of hours students spent reporting, writing, photographing and editing content."
The Trojaneer website was one of just four websites in the state to earn the honor. Amy Garrido, one of the editors of the 2021 website, was excited to learn of the honor.
"It's honestly just an amazing feeling. Jack [Forrest] and I didn't necessarily aim to win the website Hoosier Star award. We wrote and compiled stories that truly represented our student body," Garrido said. "Journalism is about giving a voice to the voiceless and giving students the platform to express themselves. I think winning this award just kind of shows that if you are doing it all for the right intentions, amazing things can come from it. It was a team effort and I am so proud of the staff writers and my former co-editor. It's surreal to know that people are actually paying attention. I think people often underestimate the power of student writing, so to have this award gives the Trojaneer a new type of credibility."