Sam Findley's Picks for Season Standouts
My Season Standout award is one given to the athlete who makes the biggest positive impact on his/her team. In no particular order, this award embodies the athlete who does all of the following the most often: has a positive impact on season, consistently performs at a high level, is a leader on and off the field, turns in clutch performance and contributes to the team's state tournament success.
Here are my picks for each team's Season Standouts:
Boys Soccer | Sophomore Ely Detty 
Although the boy's soccer team had a disappointing ending to their season, falling 3-2 to Southport in the sectional semifinals, sophomore Ely Detty had a great season, racking up a team-high 17 goals and 5 assists. Head Coach Jameson McLaughlin took notice of Detty's improvements.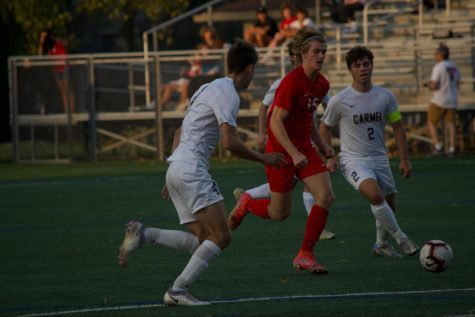 "He got bigger, stronger, and faster physically. He also grew in confidence on and off the ball," McLaughlin said. "He was better at taking kids one on one off of the dribble this year as a result of all those things."
The forward was everything the team needed on the offensive side of the ball. McLaughlin knows the importance of Detty to the team's offensive success.
"He was our primary goal scorer on the field. His presence also opened up the field for other players on the field. Off the field he brings a bit of swagger and self belief that rubbed off a bit on the team," McLaughlin said.
Girls Soccer | Senior Riley Williams 
Most defensive soccer players don't want to be noticed because typically they are noticed when they mess up. Riley Williams is the exception. Williams is noticeable not because of any mistakes she makes but because of her consistent defense and the absences of mistakes that plague most defenders. Williams senior teammate Paige Northern is one of those who took notice of her abilities on and off the field. 
"Riley Williams was a very important player on the field this year," senior teammate Paige Northern said. "She was one of the most solid players I have ever played with. Our whole team felt confident in our back line, and since Riley is a very strong, quick and calm player, she oftentimes saved us from having the other team go one-on-one with our keeper. She's really an anchor back there, and our team was lucky to have her back there for us. On and off the field she's a great teammate and she leads by example, being both humble and hard-working all the time."
Head Coach Mike Bishop, who retired after the season, was impressed with Williams' ability, especially in the team's 2-2 tie with Caramel.
"We would not have had as much success without Riley playing in the back. She was a solid player, didn't make mistakes, wasn't flashy but we never took her out unless we could. That's the type of player you leave in for the entire match and just don't think about them too much," Bishop said. "She played stellar. There's nothing bad about her game. She's tactically smart and technically really gifted. Some of the things she was doing with her foot skill against Carmel is ridiculous honestly. Great player, good to have in the center back position."
Football | Senior Caden Curry 
It might seem like a shock that there is even a discussion if the four-star defensive lineman who has offers from Alabama, Clemson, Ohio State, and Oregon should win player of the year, but the No. 8 football team in the nation has an abundance of talent. This makes it all the more impressive that senior Caden Curry came out on top.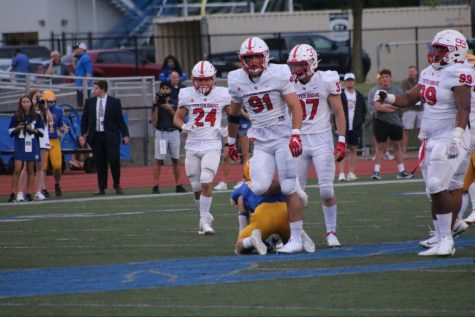 Curry has been dominant on the defensive side and has been a contributor on the offensive side of the ball. The 6'4 250-pound senior has racked up five sacks, 50 tackles and four touchdowns. Coach Eric Moore knows the crucial role Curry fills for the Trojans.
"On defense, [he has] energy and [the] ability to cover sideline to sideline and still protect the gaps inside. He's just such a great athlete and has great speed to get upfield, and it's hard for high school offensive linemen to block him. Then when he gets there, he secures every tackle, and that's what you love about him," Moore said. "On offense, he provides great forced strength. We don't have that 250-pound back in our offense. It's not what we do, but it's fun to put one in and run a little what we call the Jumbo Series where he can get down. Just being a multi-purpose athlete is what's so fun for him–to have a kid who's a once in a lifetime kid."
Girls Cross Country | Senior Bella Hodges 
Bella Hodges, a Purdue-Fort Wayne commit, was the best girls cross country runner in the county this season, earning All-MIC, All-Sectional, All-Regional and All-Semi-State honors. Hodges finished off her cross county career with 46th place finish at the state meet with a time of 19:40, securing her a spot on the state's senior cross country all star team. Head Coach Wes Dodson has been impressed with the senior's ability and drive to compete.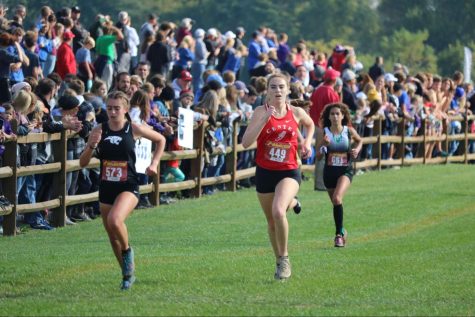 "Bella's role on the team is to lead us in workouts and races.  Not only does she do well in the races, but she also wins in practice.  She works really hard and sets a great example for the other girls to see," Dodson said. "The best way to describe Bella is a fierce competitor. I have coached a long time, and I have rarely seen someone who wants to win as much as Bella.  At the end of the race, she never gives up a position and always beats 5-10 girls coming to the line.  She has an unbelievable inner drive to be great."
Boy Cross Country | Junior Griffin Hennessy
Griffin Hennessy led the Trojans with a first place individual finish at regionals, seventh at semi-state and finally Hennessy pulled away at the state meet placing 15th leading the Trojans to a sixth-place finish. It's not every season you have an all state runner head coach Howard Harrell knows that seeing Hennessy on the podium makes the season a successful one.
"I was so happy to see Griffin up on the podium," Harrell said. "He worked so hard for so long to achieve this stretch goal.  It's rewarding to see one of your Trojan athletes reach his goal. It makes the season all worth it. Griffin is so coachable.  He'll do what you ask and more.  His running logs are on time and very detailed.  He is willing to try new racing strategies."
Girls Volleyball | Senior Katie Egenolf
Katie Egneolf has been the Trojans volleyball equivalent to a bucket getter, racking up 401 kills this season. The Trojans looked to Egenolf in big games, such as the Johnson County Tournament where the Ball State commit had 14 kills against Greenwood. In a rematch with the Woodmen In the sectional championship, Egenolf led the Trojans with nine kills for a three-set sweep.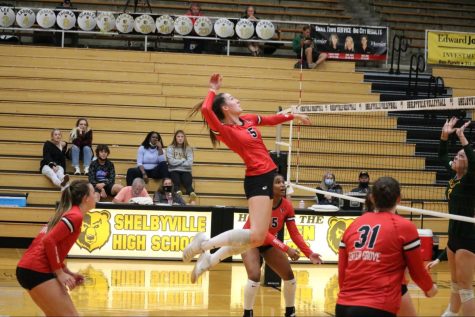 "Katie is a great competitor that every coach wants to have. She has a good balance of enjoying the game and being on a team along with the will and fight to win. She works hard to get better and asks the right questions to learn more about the game," Head Coach Jennifer Hawk said. 
The first year head coach recalls the Trojans 3-2 victory over Brownsburg as the moment she realized Egenolf's abilities.
"She had a moment early in the season against Brownsburg, I believe, that was a game-changing moment. We had to win a lot of matches in five sets early on and that moment was one that showed us as a staff that she is a fighter," Hawk said. "That kill made a statement and that's what I look for in a competitor on the court. That set the tone for her and what we could expect from her moving forward into the rest of the season."
Girls Golf | Sophomore Camille Short
Camille Short led the Trojans golf team as sophomore shooting the lowest par on average. Short came up big for the Trojans in the conference match, shooting a team low score of 69. Short's performance in the state finals was what put her over the top in a tight POTY race. Short led the Trojans to an eighth place finish and finished 21st individually. Head Coach Cale Hoover valued Short's consistency and competitiveness.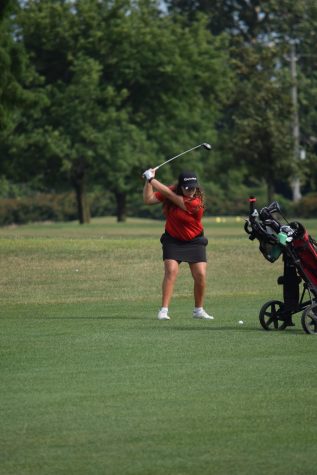 "Camille is a very consistent player, a very competitive player, and so as a coach, she's one you love to have on your team because you know that she's going to show up every day and compete and do her best. [You] can expect what you're going to get out of her and know you're going to get a good solid round. Even when she doesn't have her best game, she finds a way to put a decent number on the card,"  Hoover said. 
Senior Lanie DeHaven praises Short's mental mindset. 
"[Camille] is an amazing teammate and always shows a smile, even when she may have not played as well as she wanted to. She was always a great friend and always makes sure I have someone to talk to," DeHaven said. "She has really developed as a player and has shown off what she can do and I'm so proud of her. She has such a great mentality about being confident and doing your best even if it's not what you wanted."
Boy Tennis | Freshman Tyler Lane
It's not typical that a freshman plays No. 1 singles for a top-15 tennis program in the state. It is even more impressive that Tyler Lane finished with a record of 16-11 this season. Head coach Ivan Smith knows how rare it is to see a one singles freshman.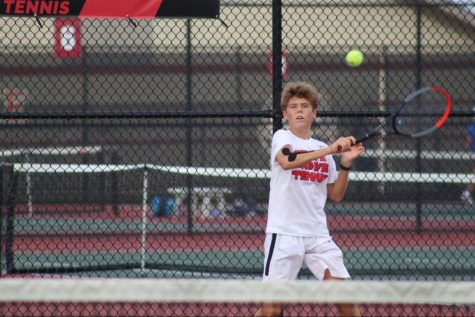 "I have coached since 1977 and I have had a lot of good players, but I have only had two freshmen be the #1 player," Smith said. 
Lane capped off the season with a four-game playoff winning streak before falling to Zionsville in semi state. 
"Tyler had a good season this year against many strong opponents. He played 14 matches against players who were named to their All District teams. Last week he was named to the Second Team All State team," Smith said.
Honorable Mentions
Aidan Kinstler, Boys Soccer 

Emily Karr, Girls Soccer 

Tayven Jackson, Football

James Schott, Football 

Lanie DeHaven, Girls Golf 

Bennett Strain, Boys Tennis 

Avery Holubar, Girls Volleyball

Parker Mimbela, Boys Cross Country
Leave a Comment
About the Contributors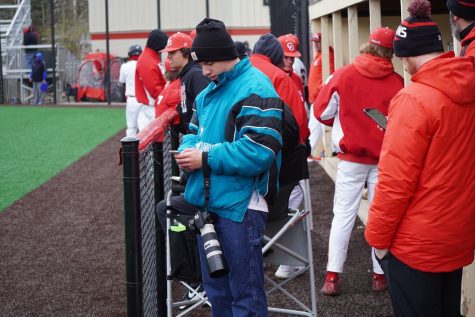 Sam Findley, Sports Editor
Senior Sam Findley has been on staff for three years. He started his Publications career sophomore year with the majority of his writing coming during...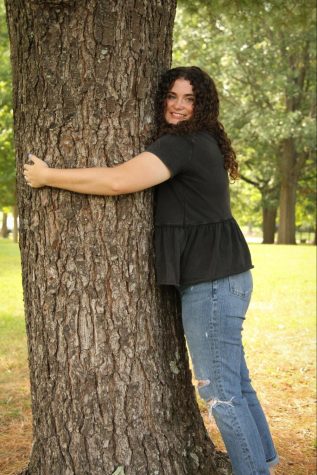 Molly Stoops, Sports Photography Editor
Senior Molly Stoops has been on staff for two years. She started her Publications career junior year when she decided to join because of her passion for...