Teacher named Air Force Teacher of the Year
Robots occupy the shelves and airplanes adorn the walls as buzzing students recharge robot batteries and use instructions to construct a robot. Through the chaotic environment and waves of conversation in the room, the Air Force Association Teacher of the Year of Indiana, Brent Schulz, conducts order into the frenzied atmosphere.
"I really want the kids to have fun within the subject matter. That's kind of my main focus, and as we're going through the different activities, the kids are learning as they're going. I also want to challenge the kids. A lot of kids have a pre-knowledge of what the subject area is, and [I want to be] able to push those kids to that next level, that higher level, to get them interested in that, to continue in that, not only in high school, but continue that as a potential career option," Schulz said.
Schulz's interest in aviation and aerospace existed long before he ever chose to be a teacher.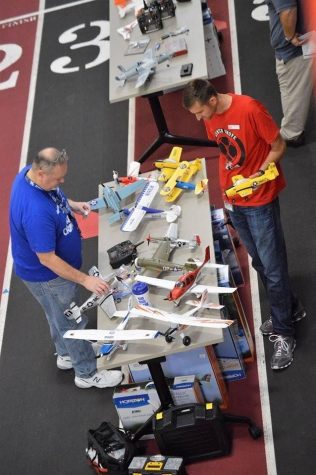 "As a small kid my dad was into flying and he had an airplane hung up in the rafters of the basement that I always kind of look at and admire," Schulz said. "Then I had a mentor in middle school. He was actually a pilot for American Airlines, and he was able to go up and fly. My dad was also a private pilot for a few years, so he kind of had an interest. They were all of those pieces that helped [guide] me in that."
Not only has Schulz had an interest in aerospace since he was a kid, but he also continued his interest through a small class on piloting and aviation.
"I have gone on an introductory flight, which is basically your very very first flight if you decide to go in and earn your pilot license. That was a half hour, just In a single aircraft out of Greenwood airport, hence I was able to go around and fly there and really enjoy the experience," Schulz said. "So that was kind of the time where I was able to go up and fly and see the controls and see how it actually was. I've been up in smaller aircrafts several times and there's flight simulators we have in class I'll go through and play with."
At the high school, substitute teacher Joe Lovrinic, an American Air Force veteran who served for five years, noticed the prowess Schulz showed in teaching his students and decided to nominate Schulz for his Air Force Association (AFA) district chapter's Teacher of the Year Award, which recognizes a K-12 educator who displays outstanding classroom performance, outreach, leadership and impact in the school and community.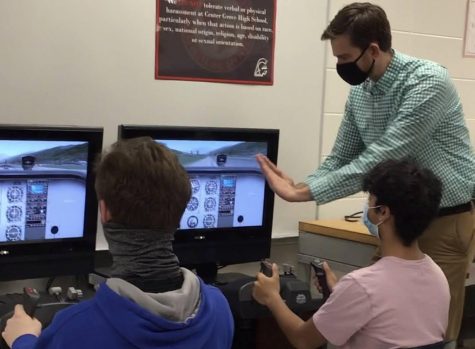 "There are a number of chapters of AFA groups throughout the country, and the Central Indiana chapter, which I belong to, reached out to say, 'do you have anyone to nominate.' Given my experience in substituting for his class and my son being involved in his RC club, I thought he was a primary example of what the Air Force Association was looking for," Lovrinic said.
When Schulz won the award for the Air Force Association Teacher of the Year, he said he was surprised.
"It's great to have other people see that, outside of just a classroom itself, but to see what other things are going on," Schulz said.
The career options Schulz introduces are engineering, robotics and aviation. His enthusiasm about these fields is apparent.
"What struck me most was his love of aeronautical science, his enthusiasm that I think was contagious with his students. Once you walk into his class you'll get the feeling of what he's all about," Lovrinic said.
Principal Jeffry Henderson agreed that Schulz is passionate about the content that Schulz teaches.
"He's certainly well-versed and able to teach that content really well and to a high level. I think that one of the things that stands out about him most is that he has a great ability to connect with a wide variety of students. [He can] engage them in content that sometimes they don't even think they can be successful in, but lead them to success by building those positive relationships," Henderson said.