On Location: Students model for Marci and Christy Photography
A handful of students around the state of Indiana enjoy the opportunity to participate in Marci and Christy (MAC) modeling during the school year, participating in innovative shoots throughout the changing seasons as they work with both photographers Marci and Christy through the process.
"I started modeling with MAC because Marci took my mom's senior pictures when she was in high school and loved them," senior Makenzie Miller, a MAC model who has worked with Marci and Christy since her sophomore year, said. "I also love taking pictures, so I thought it would be a fun way to get pictures taken and meet new friends." 
While some students hold a previous connection with MAC modeling, other students heard about the modeling team through friends and social media.
"I had some friends who modeled, and I liked the idea of going and meeting new people from different schools," Caroline McNamee, a senior representative who started work with Marci and Christy her junior year, said.  
Modeling for MAC offers opportunities to meet students from around Indiana and work with them on themed shoots. After deciding on a unique theme in their group chat, everyone puts together outfits with their own clothes or ones Marci and Christy provide, so they are able to express themselves how they wish. Christy then puts them in groups for pictures based on what goes well together regarding outfits, personality and how the set is designed.
While MAC models are given the opportunity to do a few individual photoshoots, Miller and McNamee agree that part of the fun is working in group shoots. 
"It is very fun to model in group shoots because you get to meet new people and you get to see how even though we're all extremely different, we all come together and just get to have fun with each other," Miller said.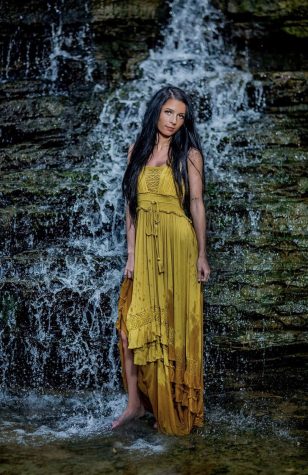 Whether the photoshoot is with a group or individual, Marci and Christy models work with themes for seasonal sessions. A year of modeling includes a wide variety of professional photos that go into the portfolio of the models, whether the photos are themed or not. 
"At the beginning of the year they try to do fun, silly ones around Halloween. This year, they did a witch shoot and then a Barbie shoot, and I got to do the Barbie shoot. While they do not usually do any during the winter, the spring and fall seasons include an individual session and group photos," McNamee said. "Once it starts to get warmer out again, they'll usually take the seniors downtown and they'll wear their college T-shirts and take some college shoots for the seniors."
MAC models don't only work closely with each other, but with Marci and Christy as well. The creative process that comes along with working alongside them is described as creative and fun by both McNamee and Miller alike.
"They are both very outgoing and sweet and they love us all individually," Miller said. "Marci is a little quieter, but once you get to know her she's one of the funniest people you'll ever meet. Christy is very crazy, wears fun clothes always and will talk to you for hours. They both love all of us, and have a special relationship formed with each one of us, not just for modeling, but for who we are."
"Marci is the more stern one who tries to get everything done," McNamee said. "When you get to know her, she has a very fun personality, but definitely strict and tries to get things done. And then Christy is just kind of a bubbly, funny spirit."
While some members of the MAC modeling team are interested in a career in photoshoots and fashion, McNamee and Miller are more interested in being a part of the positive atmosphere that this group has to offer. By working with Marci and Christy, they have gone through high school surrounded by a wide variety of supportive people who they met through the modeling process. 
"They make each girl feel special and beautiful in their own way and I really love that," Miller said.
"I have a lot more confidence now working with Marci and Christy, and I love meeting all the new people," McNamee said.
Through years of working with the group, Marci and Christy models are able to make new connections with students around the state and express their creative side through work that photographs their time spent with the Marci and Christy group.