HOSA students compete in state leadership conference
This weekend, students involved in Health Occupations Students of America (HOSA), a club for those who are planning to go into the medical or healthcare field, competed in Indianapolis at the HOSA state leadership conference. HOSA – Future Health Professionals – promotes career opportunities in the health industry. This conference allowed for students involved in the HOSA club to catch a glimpse of their future.
"Our HOSA state conference is an event where all the state chapters come together to compete in scientific events," junior William Eberhart said. "For example, mine is forensic science, and my event today was to get a case study to determine things like the cause of death, manner of death, mechanism and all other things surrounding it."
With the conference having educational symposiums and a variety of other events and opportunities, all students in the HOSA chapter were invited to go, even if they did not compete. Both in the classroom and outside of it, HOSA provides a program for students to find a clear path to their desired healthcare profession.
"I've learned a lot about leadership and professionalism from attending the HOSA conference on top of the medical knowledge I have learned," junior Alec Gardner said.
Offering a variety of educational benefits and opportunities to those interested in careers ranging from biomedical science to health science education, HOSA both educates members with skills in leadership development and healthcare knowledge while also granting them opportunities in their field of interest.
"HOSA is great for the future because it lets us build connections in the healthcare industry and offers internships and scholarship money," Gardner said. "Next steps for students in HOSA would be applying to internships that they offer, and if you win an event at the state conference, you get a bid to nationals in Nashville."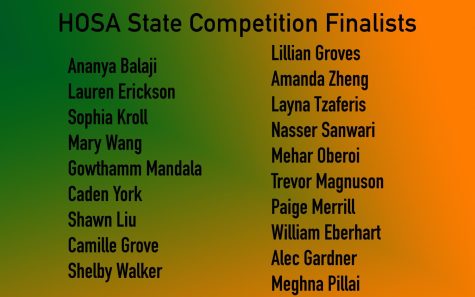 In addition to placing as state finalists, Wang, Mandala, Sanwari, Liu, Erickson, Walker and Oberoi qualified for the nationals competition.