Center Grove baseball is good, really good
Did you see what Center Grove baseball did last week? Let me walk you through it. 
The Trojans have made a habit of dismantling top teams in the state. Last Wednesday was no different when the Trojans defeated No. 9 Cathedral 17-1 in five innings at home. 
This team is good, really good. They were good enough to earn themselves the No. 1 spot in the state. 
Pitching is a reason the Trojans are ranked as a top team in the state. It's clear when junior starting pitcher Caden Cornett is on the mound, tossing two early strikes on the first batter. He's got Cathedral's Kyss Gargett all but heading back to the dugout and shaking his head in anger. "All but" is the keyword there. On the next pitch, though, Gargett is swinging and he's making contact. 
Home run. The Fighting Irish lead 1-0. 
And those Irish are celebrating and hollering. All teams do that when they hit one out of the park, let alone when they do it on the first at-bat against the No. 2 team in the state. Cornett is mad but his confidence isn't shaken. Cornett shakes the home run off and gets to work. He retires the next three batters, including a strikeout to end the top of the first, and Cornett is staring down the Cathedral dugout. They aren't nearly as loud now. 
Finally, it's Center Grove's turn to put runs on the board; this is where this team thrives. Their hitting is the best in the state, and Cathedral's ace pitcher is about to be torn apart by CG's monster batting order. 
But first I'm looking at Cornett, who has been cleverly nicknamed Corn. He's kind of just staring off into the distance, knowing he's not in the batting order. His body is relaxed, but he's not slumped like he's trying to shrink. He's unfazed. Jess Schaber, the school's trainer, is telling me how he just has to be nice and let them have one, then someone makes a joke and he laughs. He's relaxed not like someone who just got bombed off.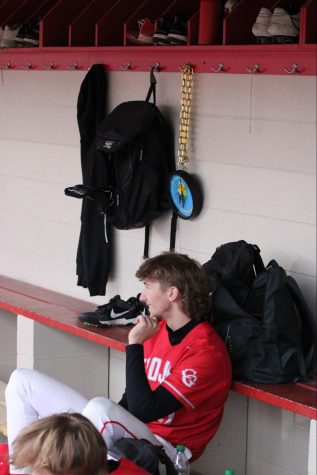 Back to the hitting. First up is IU commit Tyler Cerny. It's a two-two count. Next pitch, Cerny swings and connects. He's on first. Sophomore Noah Coy follows suit, making his way to first with a single. Cerny steals second. Mitchell Evans and Owen Guilfoy connect for singles and now the Trojans lead 3-1. The Irish scrap together two strikeouts. Now it's back to Cornett.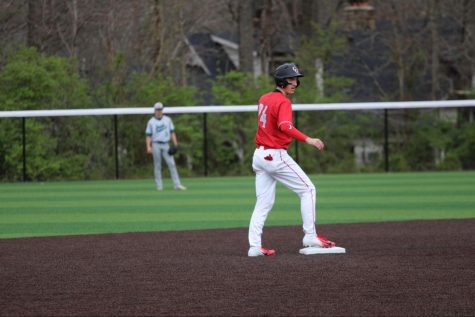 At this point, you would think Cathedral would maybe have quieted down a bit. Or at least I thought they would have. They haven't. They are chirping at Corn. I can't hear particulars but I can see gestures toward the pitcher and comments about his stare down. If the chirping did anything, it just motivated the 6'5 pitcher. 
But this isn't his inning. This is the fielding inning. They own this, scooping up ground balls, catching fouls, making the right play time after time. 
Cerny is up and he's on first. Coy is up and he's walked.  Evans is up and he's sending a ball just out of reach with a double. Guilfoy gets on base. Now Garrison Barile is up: Barile is very accurately nicknamed Garry "Barrels,"  and this ball is a Barrel. It zings out and in my mind, this ball is gone it's out of the park. 
It's not. The ball bounces off of the fence and Barile is on second.
Center Grove's dugout are the ones chirping now, shouting things like  "Garry Barrels", " That's a Barrel." Cathedral is subbing out their Ace. They've seen enough. This game is out of hand already.
But it's not over. This inning isn't even over; heck, Cathedral doesn't even have an out yet. That would change when Sam Griffith was struck out, but Cathedral's small victory would pale in comparison to Center Grove's victory that would follow.

Mathew Sauter is up, he's making contact and it's flying. 
It's out of the park.
Cathedral is able to scrape together two outs but not before three Trojans get a second at-bat in one inning. And just like that, two innings in, and the Trojans lead a top 15  team in the state 12-1.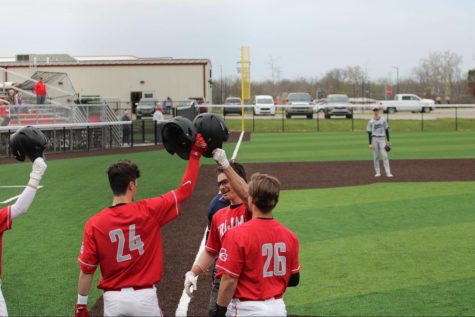 This team is good, really good. 
That was a long inning for Cornett to be sitting in the dugout, but that isn't seeming to affect him, he already grabbed a ground ball and threw it to first for an out and now he is striking out the next two hitters.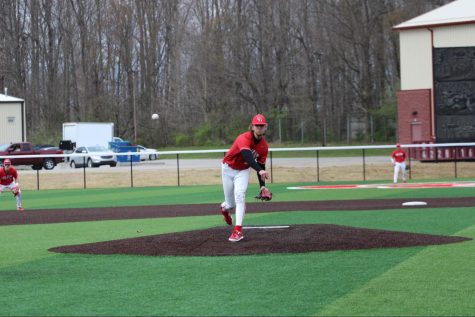 That is how this team operates. In two and a half innings, the Trojans have walked all over a top 15 team in the state. They have the pitching: three guys who would be most team's No. 1 with another couple of relief guys who would be most team's No. 2, they have the fielding, and oh boy, do they have the batting, (I didn't even mention AJ Beggs' home run in the fourth inning that sent the ball so far that head coach Keith Hatfield's jaw was dropped while watching the ball soar).

We will see just how good this team is tonight when they face No. 4 Westfield but for now, all I know is this team is good, really good.