Meet the newest CG teachers
To start the 2022-23 school year, Center Grove welcomed nearly 20 new teachers. Read below to learn more about the new Trojan staff.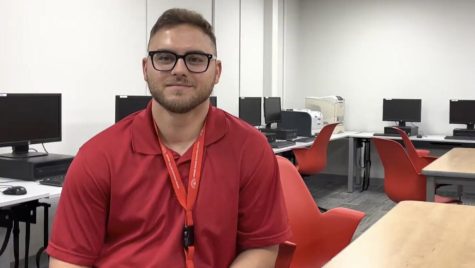 Joe Rushka – Business Department, Room 301
Not only will this year be Joe Rushka's first as a teacher at Center Grove, but it will also mark his first semester as a teacher anywhere. The Ball State graduate said he belies CG to be an awesome school district
"I want students to know how excited I am to be here and to have the opportunity to teach at a place like Center Grove," Rushka said. "This is an awesome school. I was just in their shoes 10 years ago. I didn't go to the reunion, but I just had my 10 year anniversary from graduating high school in 2012. The things I wish I had known leaving high school, I want to get [my students] as much as that information as possible."
Rushka is the oldest of three children, grew up in the Indianapolis area and attended North Grove Elementary in the Center Grove school district.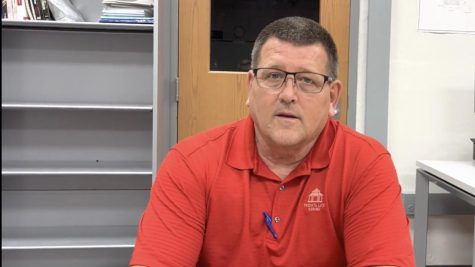 Richard Tarr – Engineering and Tech Department, Room 122
Having served as a teacher for nearly three decades, Richard Tarr has joined the high school staff to teach manufacturing, engineering and computer design classes. Tarr said he likes the material he teaches and having fun in class.
"I have taught high school for 27 years at Eastern Greene High School, which is down around Bloomington, and then I spent six years at Indiana State teaching," Tarr said. "I like to create, make things, which is what led me into this profession to begin with. I like to have fun in class but at the same time get everything done we need to get done." 
Tarr has had two nieces go to Center Grove and likes music.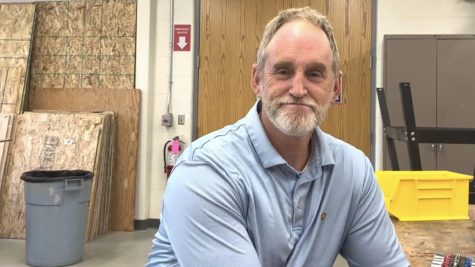 Bryan Werner – Engineering and Tech Department, Room 127
New to being a teacher, Bryan Werner will be teaching the Intro to Construction and Intro to Transportation classes. While a new teacher, he does have experience in and around the classroom and long experience in his field. 
"I'm a retired carpenter for 30 years and a coach for 30 years, so I've decided to go into teaching," Werner said. "I love the school; I've coached here for at least ten years and subbed here for three years, and I just love everything about Center Grove."
Werner is also a fan of a variety of outdoor activities and loves his family.
"I like hiking, I like being outdoors, and I like hanging out with my three boys. We play frisbee in the front yard all the time. I love coaching, and of course I love my wife and my family," Werner said.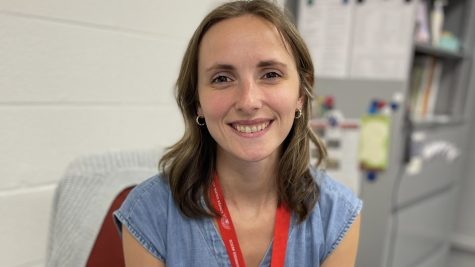 Tessa Lovas – English Department, Room 216
Tessa Lovas moved south from Frankfort, Indiana, where she taught for the last six years. She will be teaching English 11 and Senior Composition and chose Center Grove when she relocated to Greenwood and heard good things about the school.
"Center Grove kind of fell into my lap at a really good time," Lovas said. "I wanted to move to Greenwood with my family. We were moving to this area and I was researching job openings and Center Grove opened up. I loved the look of the school, and when I researched the school and talked to people about it, Center Grove seemed like a really great place. Then I interviewed here and met some great English teachers."
Lovas is also a former participant in Color Guard and coached it at her old school. She also has two sons.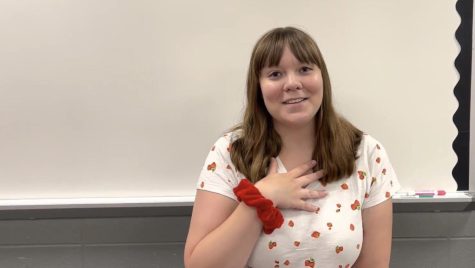 Julia Robben – English Department, Room 225
Julia Robben will be teaching freshman and junior English this year after moving from Franklin Central High School. Robben said she had many reasons for making the switch to Center Grove.
"I'm very excited for a fresh start," Robben said. "It's a good location, I'm moving to a new house so that was good. Also the high school I attended was also the Trojans, so it felt like it fit."
A fun fact about Robben is the amount of traveling she has done.
"I've been to ten countries in Europe. While I was there, I went to Shakespeare's school in England," Robben said.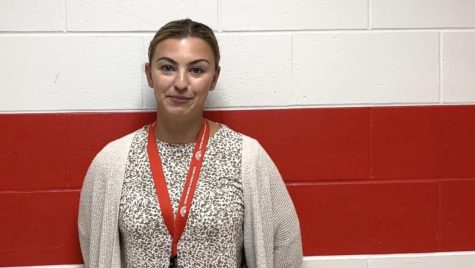 Carly Ryan – English Department, Room 201, 213, and 342 
Carly Ryan, a graduate of Center Grove and former teacher at Clark Pleasant Middle School and in Austin, Texas, chose Center Grove because she went to CG and what she knows about the school.
"I went here, I know it's a great school, and I know there were great kids," Ryan said.  
Ryan is looking forward to the school year, and was once involved in athletics.
"I graduated from here and I used to play volleyball," Ryan said. "I am looking forward to a great year."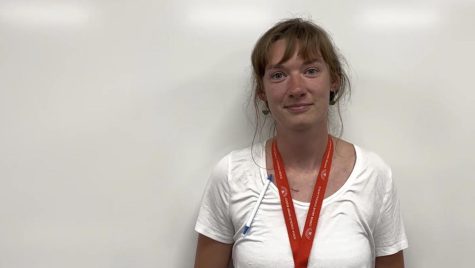 Josie Heidlage – FACS Department, Room 260
Josie Heidlage is a first year teacher at CG who will be teaching Intro to Culinary, hospitality and human services. Heidlage chose Center Grove because of the community that she saw in the school. 
"The first time I ever came to this school I felt just this sense of community and love, and I felt so encouraged leaving both of my interviews with this place and I was like 'welp, I can't say no if they offer me a job and then they did,'" Heidlage said. 
Heidlage loves the outdoors and her weiner dog named Oscar.
Erilyn Briggs – Foreign Language Department, Room 347 
Erilyn Briggs will teach Spanish I and II at Center Grove as her first teaching job. However, she has experience teaching English in Ecuador and student teaching locally. 
"I chose Center Grove because I did my student teaching here this past semester, and I'm really excited about working with the department," Briggs said.
In addition to teaching, Briggs enjoys cooking and reading.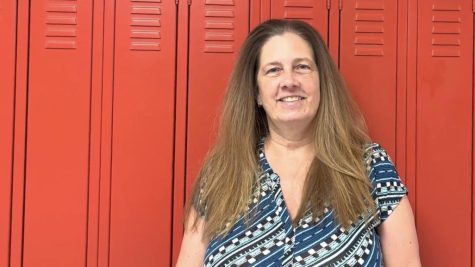 Kris Cardona – Foreign Language Department, Room 350
Kris Cardona taught at Brownsburg High School for 19 years prior to starting at Center Grove. She will teach Spanish I and III.
"My kids go to school here. It's close to home, and I subbed here," Cardona said. "I really liked the atmosphere here, so I decided it would be a good place to come."
Cardona's interests include Spanish and reading. 
"And usually, I'm a pretty good cook," Cardona said.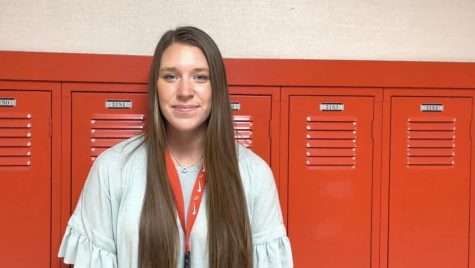 Danielle Munn – Math Department, Room 324
Danielle Munn will teach Algebra I and geometry classes. Although it is her first year as a teacher, she had prior instructional experience as a student teacher in New Zealand. A Whiteland graduate, she said she is looking forward to teaching at Center Grove.
"I went to Whiteland, so it's actually crazy that I'm at Center Grove," Munn said. "A lot of people in my family are giving me a hard time for that, but I have had nothing but a great experience with everyone I've encountered and I'm excited to be a part of the community."
Munn played softball in college and has a fun-loving, energetic personality.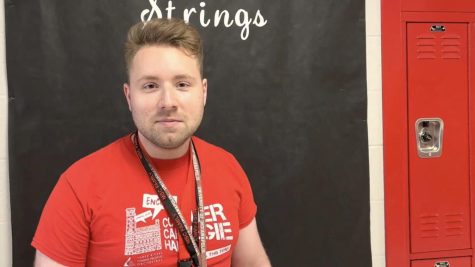 Eric Baker – Music Department, Room 187
Eric Baker is the newly hired Orchestra teacher for the high school and for Middle School Central. After relocating from Pennsylvania, he chose Center Grove because of the wonderful things he heard about the music department.
"I've known about the Indianapolis scene for music education for a good minute. I've been coming to Indiana off and on for a couple of years to work with various conferences and workshops and things like that, and I've always heard such wonderful things about the music programs here," Baker said. "I saw there was an opening here and I applied, and now here we are."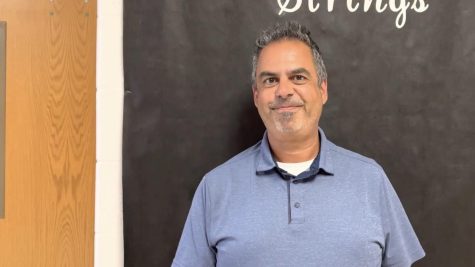 Mike Bolla – Music Department, Room 186
After teaching band for 19 years at Middle School North, Mike Bolla is taking on teaching band at the high school. He went with Center Grove because he knows the quality of the school, and he said he wants to stay with it.
"This is my 20th year here, but first year in this building, so obviously I know the excellence that happens here and I'm excited just to help to continue that," Bolla said.
Bolla is a fan of many types of sports –watching them, at least.
"I am a diehard Cubs fan, which this year is unfortunate. I do love watching sports, but I'm not very good at playing most of them. I enjoy golfing although I'm also not very good at that. I just enjoy hanging out with my friends," Bolla said.
Keith Hatfield – PE/Health Department, Room
While Keith Hatfield is new to the physical education department at the high school, he will be a familiar face to some students; Hatfield previously taught at Middle School Central and has been the head baseball coach for the high school for nine years. 
"Being closer to the athletes and having an opportunity to work with older kids –that's the main reason I came from the middle school to the high school," Hatfield said. "It's just a tight-knit community. There are great people to be around, great people to work with, so I'm looking forward to it."
Hatfield said he wants students to know that he is easy-going and easy to talk to.
Kenna Kleingartner – Science Department, Room 111
After serving as the assistant volleyball coach last year, Kenna Kleingartner came north from Martinsville High School to teach biology. 
She hopes the change will "make everything easier. My kids are here, we live here in Center Grove, so it was an easy decision to be here and be a Trojan," Kleingartner said. "I like to have a lot of fun, especially in class. I'm pretty laid back as long as we get our work done."
Kleingartner said she likes to travel and to be with her family.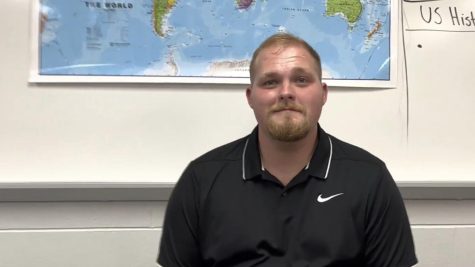 Eric Spears – Social Studies Department, Room 288
This year marks Eric Spears' first as a teacher. He will teach World History and Civilizations as well as United States History. Spears is left-handed, a twin and a University of Indianapolis graduate. He is also an avid supporter of two Ohio teams.
"I'm a huge Bengals and Reds fan," Spears said. "You'll see stuff hanging around, and you'll see me in various attire for my sports teams."
Spears is most excited to get to know his students and to talk about history with them.
"History is such a big thing for me, and I just cannot wait to be here and be a part of the Trojan family," Spears said.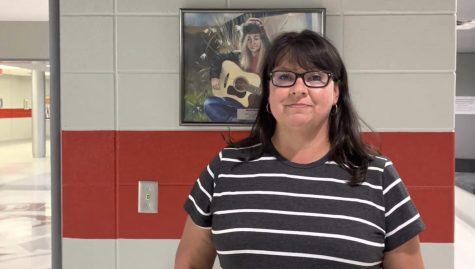 Kathy Long – Special Services Department, Room 341
Kathy Long has been a special education teacher at Indian Creek, but before that, she taught here. She said she returned to Center Grove because it's her community.
"Center Grove is my community," Long said. "I'm excited to be here at Center Grove and back in the community, to root on and just be here to help all the students that are coming through."
Long had two boys graduate from Center Grove, as well as five nieces and a nephew.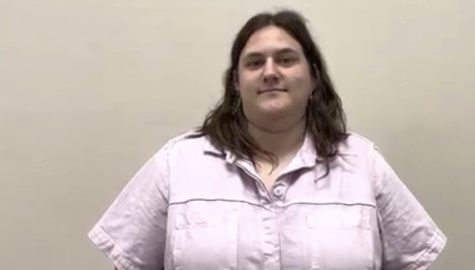 Katie Hartford – Art Department, Room 624
Katie Hartford will teach Intro to Art and Ceramics at the high school. However, she also enjoys other forms of art.
"I enjoy crocheting, thrifting, antiquing and reading; I feel like an old lady," Hartford said.
Hartford previously taught at Wayne Township, and she attended Greenwood school district. She is excited for the opportunities Center Grove presents her as an art teacher. 
"I'm most excited about meeting the kids and being able to use this new art wing," Hartford said. "I know there's not a lot going on right now, but it's going to be great. There's a lot of awesome people in here and we are going to do a lot of awesome stuff."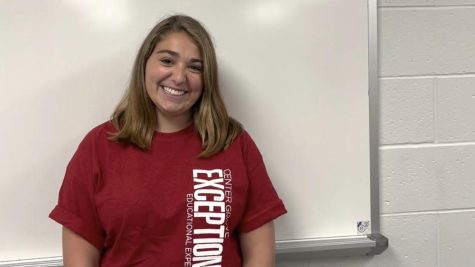 Skylar Torrey – Theater Department, Room 292
As a recent graduate of Ball State University, this year will be Skylar Torrey's first as a teacher. She will teach theater and Keystone at Center Grove. 
"I've been doing theater since I was three, so I am 100 percent invested in theater," Torrey said. "I was a theater nerd in high school, so I will definitely relate with you. I'm most excited to build on this theater program. I know it's kind of in the works of starting, so I'm excited to make it a bigger deal and have more investment in the theater department."
In addition to theater, Torrey is a fan of Marvel; her cat, Loki, is named after the superhero character, and she encourages students to discuss the franchise with her.