Answering frequently asked questions about CG
High school can be a confusing and difficult place to navigate. As a result, many questions arise. The Trojaneer has some answers for you. 
Where and when can I check out books?
The Media Center is a place to find Global Campus students working on their online course work, teachers setting up meetings in conference rooms and peers printing out their essays right before their first period class. However, the Media Center also provides a wide selection of books that students can check out.
"The Media Center will be open to students starting Oct. 3. This year we will be bringing back the Media Center passes that are given to students for use throughout the entire school year," Ashley Cousino, Media Assistant and AV Specialist, said. "A video will be sent out closer to that time explaining how the passes will work for students."
The Media Center is open every school day from 7:30 a.m. to 3 p.m., but students may struggle to find the time to check out a book.
The best time to go to the Media Center to check out a book is during study hall, since those are periods of time in which students can focus on their schoolwork and other activities with no interference from mandatory classwork.
"One of the great things about our Media Center is the ability to visit from your study hall for a quiet space to work or read. We have multiple areas of the library that allow for anything from silent work to collaboration with study partners," Cousino said. "Surrounding those spaces [are] approximately 15,000 books, available for students to check out. Our Media Center prides itself on keeping a collection that is up to date with current reads students actually want to check out. Everything from Emily Henry and Reese Witherspoon's book club picks to Harry Potter in multiple languages."
What is the fine arts area going to be used for, and what is the timeline for its construction to be complete?
The construction outside of the Hall of Excellence is nearing completion, but now the old art wing is undergoing a rehab as well.
"The old art wing is being remodeled into classroom space (Theatre Classroom, and Credit Recovery Lab), Green Rooms and Prop Storage for Theatre and office space for a relocated athletic office. Construction will be ongoing during the 2022-2023 school year, with target completion dates at the start of 2nd semester," principal Jeffry Henderson said.
What are cafe hours, and how do you determine whether the cafe is going to be open or closed on a specific day?
The cafe is a place where students can purchase snacks or drinks to get them through the day. However, students will have to wait a little bit longer for the cafe to open, mostly due to staff.
"Due to staffing shortages, we will be delaying the coffee shop opening until September.  On a typical day, the hours are from 7 a.m. to 1 p.m. That is subject to change due to the availability of staff.  We try our best to communicate to the high school administrators when we need to close the coffee shop," Shannon Maple, Director of Food & Nutrition Services, said.
What is the school policy on what to do when being bullied? At what point does a student report bullying, and what are the punishments attached to bullying?
Most students don't realize bullying is happening until it is too late, because it is often difficult to toe the line between what is a normal argument and what is bullying. However, administrators say that if a student thinks they are being bullied, they should report it right away.
Students will sometimes take the burden of embarrassment or ridicule for a long time before reporting it. But when the deans talk to the aggressor, the aggressor receives due process, which begins with a verbal warning.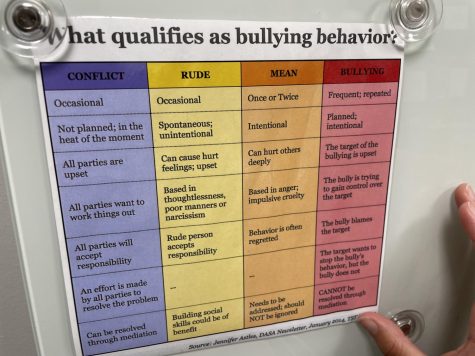 To report bullying, students should see Mrs. Bellian in the Dean's Office. She can provide students with a form, which will then be given to the deans to start tracking the behaviors that need to be addressed.