Classes attend Indiana Supreme Court hearing at UIndy
It is not every day that the public gets a glimpse at a hearing by the Indiana Supreme Court – the highest court in the state.
However, on Tuesday, students in Cale Hoover's AP Government classes and Debbie Nolan's Business Law and Ethics II classes got to do just that. The field trip to the University of Indianapolis gave students in both classes an opportunity to see the judiciary system operate.
"A few times a year, the Indiana Supreme Court will go from their normal courthouse out for more students and public to be able to watch them hold a hearing instead of it being closed off like it normally is," senior Derek Johnstone said. "It's normally open to a bunch of students from high school or some colleges, and we were fortunate enough to be able to come to this one at UIndy."
The court heard oral arguments in Keller J. Mellowitz v. Ball State University, which occurred after Mellowitz attempted to file a class action lawsuit against the school. Mellowitz filed suit to retrieve room-and-board payments from Ball State after in-person instruction was canceled in March 2020 due to the COVID-19 pandemic. The Indiana General Assembly passed legislation to prevent Indiana judges from certifying such COVID-related class actions, which led Mellowitz's case to climb the judicial ladder.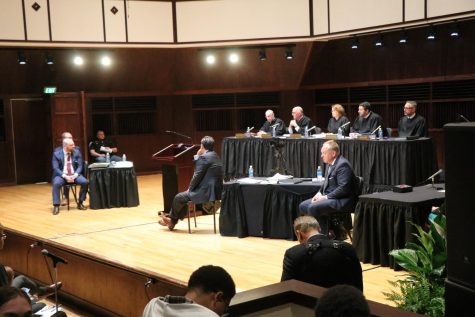 "I learned about the kind of things that happen during a Supreme Court trial," senior Jacob Thornton said. "The process for that is very different from the situation of a general, normal trial with guilty or not guilty – that doesn't apply to a Supreme Court hearing. I learned a lot about the process, and I didn't realize that the hearing would be this short."
Students from Center Grove, along with students from other nearby high schools and UIndy, watched the hearing in UIndy's Performance Hall. All five Supreme Court justices, attorneys for the plaintiff and Ball State and an honorary bailiff sat on the stage.
"The crowd was silent; there were a lot of people," sophomore Emily Strother said. "There was always a photographer going around and up. There were like two people up at the top and a whole class behind us. The court had low lighting, and when it started, it had a whole wooden area and the defendant and prosecution were facing the court at all times. The judges were facing them and looking at the crowd because you don't know what's going to happen during a court case."
At the end, the attorneys and justices turned around to answer questions from the audience. Students asked about topics related to their class, like class action lawsuits, legal protection and the difference between substantive and procedural statutes.
"It was hard to keep up with some of it because the attorneys were going so fast with the limited amount of time they had," sophomore Sarina Manchirala said. "A lot of the vocabulary they used, we learned that in [Law II] but because it was so fast I wasn't able to recollect any of it. I had to ask people around me if they knew anything or listen to the questions at the end."
For members of both AP Government and Business Law and Ethics II, the trip offered them a chance to see what they had learned about in action.
"Not that long ago we talked about the judicial branch of the U.S. Constitution and how the founders intended it to be run and what they thought of it. It coincides with watching and being able to witness how it proceeds and how it works more thoroughly than just reading about it and we could actually go and see how it is," Johnstone said.