Teenaged teacher
Junior offers free STEM instruction for kids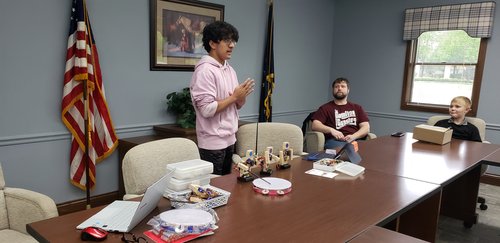 Junior Aarav Agrawal wants to be an engineer. That passion led him to start his newest venture: teaching science, technology, engineering and math (STEM) courses to kids.
"I'm just passionate about spreading STEM-related interest to younger kids," Agrawal said. "I enjoy helping them get exposed to that kind of field, and setting them on the right path if they're interested in that."
To make it easier and more accessible for kids, Agrawal provides these classes for free and has plans to try to give more online courses and videos to allow more kids to learn if they cannot attend in person.
"I try to make them easily accessible to as many people as I can. So far I've had in-person workshops, but I'm also planning on holding Zooms for people who can't make it in person," Agrawal said. "I'm also planning on recording video recordings of myself teaching it for people who want to watch it on their own time. I just want to make it accessible to as many people as possible, which is why I'll be putting up my video recordings."
Agrawal does have some difficulties at times with reaching out to enough people but hopes that he can change this with the help of others. 
"It's just hard to get a good group where I can reach out to enough people and have that workshop with enough," Agrawal said. "I just hope to just be able to spread the word more and maybe connect with some organizations that can help me spread the word."
Reaching out to more people isn't the only difficulty Agrawal has to deal with. Agrawal has to find time in his schedule to teach these classes, but hopes that this summer he will be able to find more time to teach.
"So it's a little time-consuming," Agrawal said. "I hope to pick it up a lot more in the summer when I'll be less busy with AP classes and school in general."
Agrawal teaches two different classes for ages nine and up.
"The first class we build a robotics kit from the ground up, and the second class is optional right now, which is where I go in-depth about the coding," Agrawal said.
To find out more about the classes Agrawal teaches or to sign up for his classes, go to kidsexplorerobotics.com.