Written By Taylor Ward
Last year, the CG Choirs went to Broadway. This year, Broadway came to the CG Choirs.
On Friday, Feb. 24, New York actor and musician Kyle Riabko visited Center Grove to conduct a masterclass and Q&A with the students. Riabko kicked off the afternoon by singing a few songs by Burt Bacharach, composer of famous songs such as "Raindrops Keep Fallin' on my Head" and "Close to You." The Broadway performer accompanied himself on guitar.
The actor and singer's performance credits are numerous, including a lead role in the original Broadway cast of Spring Awakening, a major role on Broadway in Hair and a recurring appearance on the hit TV show 90210.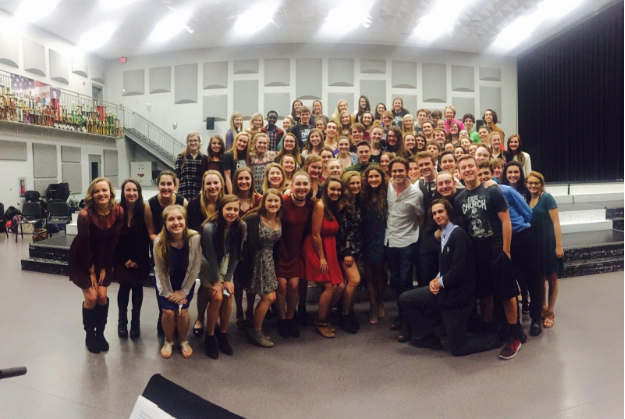 Riabko was brought in through an organization called The Cabaret. Located in downtown Indianapolis, The Cabaret brings in Broadway stars and working musicians to perform songs and monologues at their venue in the city. Recently, the organization has been seeking to provide local musically-inclined students with an opportunity to meet and learn from real, working show business professionals. Their mission: "to elevate and promote the cabaret art form by presenting the finest in professional cabaret performances and developing the next generation of cabaret artists."
After singing for the students, Riabko sat back and watched CG Sound System perform a number from their competition show. Once they had finished, he was highly complimentary, saying, "now I understand the wall of trophies."
A couple of students also performed their own solo songs, including senior Adrianna Goss. Singing "Vanilla Ice Cream" from the musical She Loves Me, Goss said that "it was cool to show him some of the talent that makes up CG choirs."
The excitement did not come without its nerves, however.
"I was a little nervous because I had seen him in one of my favorite TV shows, 90210," said Goss.
Mr. Riabko provided plenty of performance advice to the choirs, but perhaps his biggest point to the students was this: "Always be performing. No matter where you are or what you're doing, keep performing. It's a gift you have to share with the world."