Story by: Abi Ghiridharan
Pictures by: Jessica Richardson
Senioritis did not seem like an option for the students who worked throughout the year to complete their art projects. These art projects ultimately went on display at the Center Grove High School art show where students were able to admire the projects created by their peers.
"I got first place for the AP board," Molly Robinson said. "I'm so happy with it. I think, more for me, I just want wanted
to release it into the world and have people see it. But the fact that someone understood it enough to give it a good rank is just awesome."
Many of the students chose a theme to build their artwork around. Through their pieces, artists were able to express themselves and communicate with their viewers.
"The theme of my art was showing the beauty in death," Chloe Davis said. "Most people have negative feelings toward death so I showed that there is beauty within a sad moment. We did a project where we did a pen drawing of a skull and I really Iiked it. Everyone thinks that skulls are negative so I thought I could add the positives to it."
Students spent a great amount of time creating and shaping the ideas for their artwork. Skyler Johnson concentrated her pieces on the idea of being held back by different things in life, an idea that evolved and grew out of another theme.
"I first started out by wanting my works to centralize around the idea of antisocial personality disorder, and I created a couple artworks from that but I found it really hard to continue the theme with the time restraint I had," Johnson said. "I had to change it to be a more simple body of work so I looked at what I made so far and pulled that idea from it."
Throughout the year, students were able to gain a lot from working on their artwork. Senior artists were able to grow through their experiences and become more confident in their abilities.
"I took pictures of street photography and focused on people, everyday life, and candid shots," Cory Harden said. "I've always been interested in people and how they interact. I believe that I've been more willing to take shots that are a little more risky for the experience and the art behind it. I feel like a progression is bound to happen over time as long as you keep shooting."
As with any class, students also experienced some frustrations during their process. Along with their achievements came challenges and moments of stress that artists had to get through.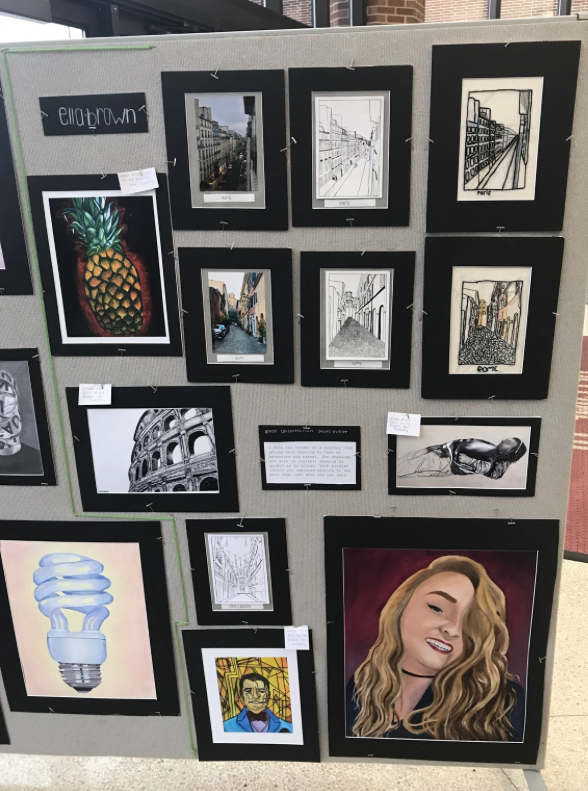 "I do a lot of detail-oriented work, and so I think that just kind of gets on my nerves when things don't look exactly right," Johnson said. "Because it's so detailed you have to go back in and fix those little things, so it takes a lot of time."
For many of the seniors, their passion for art will continue into college.
"I'm really into art. I'll continue my art career in college because I'm going to Herron at IUPUI," Bailey Riddle said. "I'm doing integrated studio practice at Herron, which is an art major for those who don't know what they want to do yet. But I'm probably going to do a painting or ceramics major because I've worked in those fields before."
A few career plans took shape due to the support and instruction of high school art teachers. Some students wanted to follow in the footsteps of their teachers and serve as instructors to future artists.
"I'm going to school for art education," Harden said. "My teachers have inspired me so much that I want to inspire other students in the future. I hope that in four years I will be back here teaching and helping kids find the same spark that I found."
After an entire year, students were finally given the opportunity to put their works on display for their peers to view and appreciate. These artists, with patience and dedication, were given the ability to express themselves and inspire others.