Picture perfect
Sophomore creates surrealist portraits with graphite for Drawing 1 course
Sophomore Regan Dugan steps away from her desk. She looks at her art piece and sets her pencil down. A sense of accomplishment hits her as she looks at the finished creation. Dugan has been drawing and doing art since she was young. This year however, she took her first art class at Center Grove, and it has introduced her to all new forms of art. 
"When I was little, I was always drawn to art-type things. I would color and doodle all of that. But I never found myself that dedicated to continuing or thinking it was what I wanted to do," Dugan said. "After staying inside during COVID, art really helped me out and got me inspired to take an art class and try it out."
Dugan mainly focuses on the drawing aspect of art. She particularly has been working on realistic portraits for her Drawing 1 class as well as trying out personal styles. Learning these skills took work, however. 
"Usually I use graphite to draw realistic portraits. I'm such a perfectionist and graphite allows me to make something that can be perfected unlike other mediums. It really made me want to do it and do it well," Dugan said. "I pretty much just watched YouTube videos here and there to learn some basic skills. But, it was mainly just the act of doing it and getting it wrong over and over again that really taught me."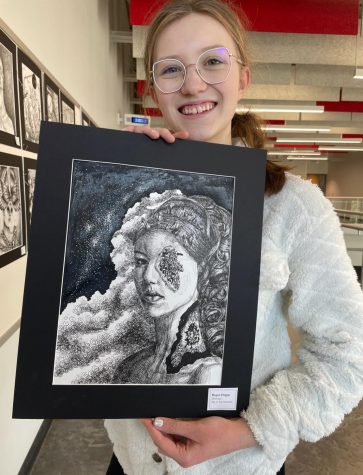 Personal style plays a big role in Dugan's passion for art, as well. In addition to graphite, she has recently worked on a surrealism piece.
"I think I really liked the surrealism piece that I did because I could combine my own creativity with the skills I already had to create something really cool," Dugan said. "Creating your own style takes a lot of time. For inspiration, I would always scroll online and look at amazing art other people have done and used that as inspiration. I think that has made me get to where I am because I was just so inspired to get good." 
Since first getting into art, Dugan has seen a lot of growth in her art and in her mindset, as well. 
"When I look back I think everything has improved. My eye for details, skills, and even the genre of art I enjoy has completely changed. My abilities overall have really improved," Dugan said. "I think now I've figured out how to really just be creative and use my imagination within my art." 
Dugan is not planning on stopping making art anytime soon: she plans to pursue a career using her artistic skills. 
"In the future, I want to expand in all types of ways. I want to work on different art styles and use more of a different approach." Dugan said. " I also would love to be a book illustrator for a career. I think it would allow me to use my skills and creativity to the best honestly. It would let me use my imagination and love for art for good."