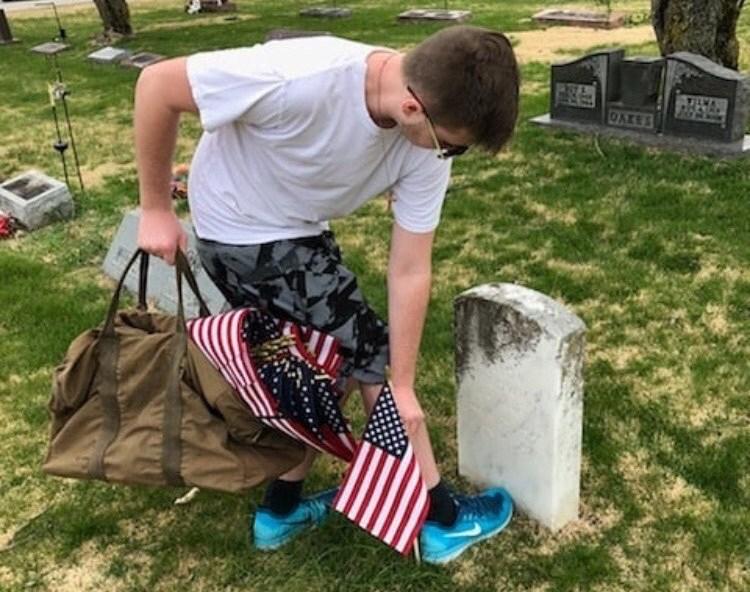 Aaron Toland | Staff Writer
  One glance at Landon's Instagram page immediately confirms how passionate Blackwell is about his country. In his Instagram bio, he calls himself a "proud patriot"; his Instagram feed boasts photos showing his support for the military and pictures from various KOPPI meetings; he posted a photo prominently displaying the United States flag that hangs over his bed. His Instagram bio also includes this well-known quote from 35th President John F. Kennedy's inaugural address: "Ask not what your country can do for you, ask what you can do for your country." Taking the late president Kennedy's speech to heart, Blackwell has already asked what he can do for his beloved country.
  Blackwell raised funds to honor fallen veterans. Recently, Blackwell went to his father and asked for help on a "project." When he told his father that his project would be buying American flags to place on the graves of veterans, his father was overcome with pride and surprise.
  His father offered to foot the bill, but Landon wanted to truly pay/earn the money for his project himself. Unbeknownst to Landon, his father then created a page on the donation platform Kickstarter; Kickstarter is a website that allows people to receive funding from others to complete projects.
  After only a week of receiving a mix of donations from Kickstarter and from those he knows personally, Blackwell received all the funds he needed to buy the flags for his project.
  Blackwell's admiration and appreciation for veterans is what inspired him to start this project. "I've always respected veterans for as long I can remember," said Blackwell. "If it wasn't for them, I wouldn't have the rights and freedoms I have today. Those men and women fought for both of those privileges. Veterans have been so supportive of our country I thought that I should try to return the favor."
  On April 14, Blackwell began placing flags on the graves of veterans. Blackwell went to Mount Pleasant Cemetery with a satchel filled with US flags. By the time he was done for the day, he had already placed flags at the graves of 50 veterans. On April 18, Blackwell finished the job by returning to Mount Pleasant Cemetery with the remainder of his flags.
  Blackwell's project is just the beginning of his long-term plan to benefit his country. Although he is done putting down flags for the time being, he is still planning on continuing his project in the future. Blackwell wants to have a project similar to this in a few years; next time around he plans on going to Greenwood Cemetery.
  After high school, Blackwell hopes to become both a member of the Air Force and a politician later in life. Because he aspires to be a politician, Blackwell is a member of KOPPI. According to Blackwell, "I decided to join KOPPI because I want to become a politician and KOPPI gives me the chance to get some political experience. Politics is important to me because it gives me the opportunity to put my voice out for people to hear and possibly use my ideas to help people."
  Protecting his nation from aerial threats. Using his ideas and political power to help people. Honoring veterans. This is what Blackwell is going to do for his country.