Graham Kanwit | Staff Writer
Junior Carter Dills is bringing years of acting experience to the District Theater on Mass Ave, performing A Midsummer Night's Dream with Agape Performing Arts.
"I did my first production in 7th grade at North," Dills said. "I played LeFou in Beauty and the Beast. My friends convinced me to try acting and I just stuck with it. I did the show again in eighth grade and then some friends performing Les Mis with Agape convinced me to try acting outside of school. I've been with that group ever since."
Dills' theater group also includes senior Michelle Poe and freshman McKenna Putzek, and Dills has also performed with alumnus Eli Robinson. Although Dills knows several of the cast members in the upcoming play, there are a few actors he has not worked with before.
The community theater group includes students from the entire Indianapolis community, not just the Center Grove area.
"You see a lot more faces," Dill said. "A lot of cast members are homeschoolers. It's mostly new people."
In addition to meeting new people, Dills has to adjust to a constantly changing theater schedule.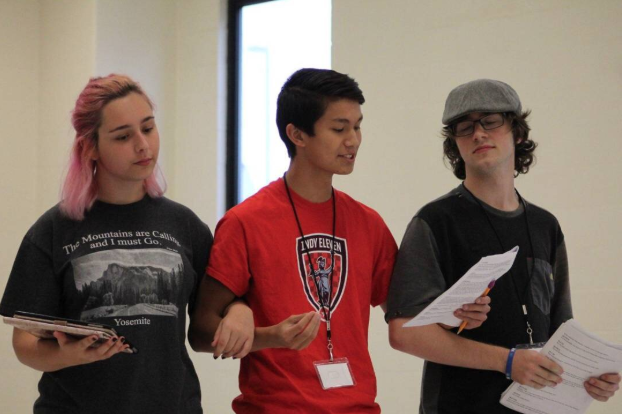 "It changes for each show," Dills said. "Right now we're rehearsing Friday nights and Saturday afternoons. We don't have a lot of time to put this together. We've only been rehearsing for a few months, but we perform in a few weeks. It's been very difficult to balance my time because I'm in five AP courses, but I also have to memorize lines and blocking (choreography)."
A Midsummer Night's Dream is a comedy about an Ancient Greek love triangle, a quarrel within a realm of fairies, and a group of laborers putting on the play Pyramus and Thisbe for Carter's character—Theseus, the Duke of Athens.
"It's a supporting role, but he's a typical 'rich dude,'" Dills said. "He's very dignified but he has some very comical lines. I wasn't even originally in the show, but Theseus and Theseus's understudy both dropped out, so I guess I just got lucky."
Come support Carter and the rest of the cast at the Indy Bard Fest, the only Shakespeare festival in Indiana, in the District Theatre. Shows are Sept. 28 and 29 at 7:30 p.m., Sept. 30 at 3:30 p.m., Oct. 5 at noon and 7:30 p.m., Oct. 6 and 7:30 p.m., and Oct. 7 at 3:30 p.m. Tickets are $15 for adults and $12 for seniors and students. Go to agapeshows.com or call 317-292-4429 for more information.