Corporation-wide ceremony signals official start to school year
In order to kick off the new school year, the corporation hosted the annual Welcome Back ceremony, featuring musical performances by students, a pie-in-the-face contest, and interviews with teachers who traveled abroad this summer.
The celebration, modeled after a TV talk show, was hosted by superintendent Rich Arkanoff with the help of choir director Jared Norman. The event previewed the upcoming school year as well as celebrated some accomplishments from the summer. 
To open the ceremony, senior Halle Booher, her sisters Audrey and Molly, and other district students sang the "Star-Spangled Banner." 
"It was so fun to sing with my sisters to start off the school year for everyone," Booher said. "We loved getting to sing for our past and current teachers and see everyone in that setting after summer break."
In addition to recognizing the corporation's Teacher of the Year — Maple Grove's Carly Smith — high school teachers and Lilly Grant recipients Cindy Cullom and Karen Gerhart were also invited onto the stage to talk about their summer travels.
Cullom traveled in June, first to Camp Pendleton and then on to Vietnam, retracing her older brother's footsteps before he was killed while serving in the Marine Corps in the Vietnam War. Gerhart visited England, France, Germany and Italy to study places of significance in works of literature and in her own family story.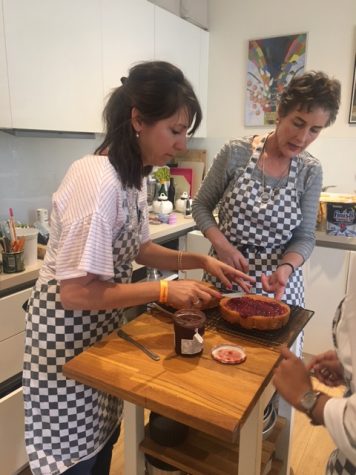 "My Lilly Endowment Teacher Creativity Grant allowed me to have the most perfect trip to Europe this summer as I "cooked and booked" the great love stories," teacher Karen Gerhart said. "I'm excited to incorporate some of these experiences into my classes this year. I also enjoyed the opportunity to share my journey to a packed auditorium on our staff opening day. It was a great jump start to an exciting year."
The ceremony closed with high school band members accompanying junior Abby Green singing "High Hopes" by Panic! At The Disco.
Senior trumpet player Richie Arkanoff said, "Everyone from all [of] the schools was there so I got to see teachers from middle school and even elementary school that I haven't seen in a really long time. It was really cool to welcome everyone back playing 'High Hopes' because the stage lights came on and they were all different colors. It was just a lot of fun to perform."
 While the hour-long ceremony welcomed teachers back, staff members spent the rest of the day participating in professional development and working to prepare for students' arrival tomorrow.