Review: Indianapolis Production of "Hamilton" Blows Us All Away
Correction: An earlier version of this article said that Hamilton was born in Haiti.
For the last four years, Lin-Manuel Miranda's "Hamilton" has served as a cultural icon. A play about the titular Founding Father who emigrated from the West Indies, committed adultery and created the blueprint for the American economy, it is perhaps the most accessible and relevant play of the 21st century. What truly makes "Hamilton" is its iconic soundtrack; many fans who have never even seen the play know its music by heart. At first glance, the Indianapolis production of "Hamilton" is teeming with flaws compared to the original soundtrack. However, it deserves a much closer look.
The song "My Shot" serves as Alexander Hamilton's signature song in the play, but it is early on in the growth of the character. What initially appears to be unconfident acting on the part of lead Joseph Morales quickly reveals itself to be expert method acting. Morales carefully balances Hamilton's intellectual cockiness with his staggered growth into adulthood, best represented by his intentionally shaky delivery of the line "Am I talking too loud?" in "My Shot."
As the play progresses, Morales mimics the increased confidence his character feels. Whenever Hamilton gets promoted in the Continental Army or wins a battle against the British, his voice becomes louder; his singing also becomes more pronounced.
The only true flaw in Indy's "Hamilton" is that the titular character is overshadowed by supporting roles. This appears to be an intentional move; rather than exaggerate the myth of Alexander Hamilton, the performance focuses on the man: his successes, his shortcomings, his strengths, his flaws. It's not a biopic; rather, it's an examination of the legacy Hamilton left behind and the extent to which he impacted the lives of those around him. 
Regardless, it's hard to complain about the show-stopping supporting actors. Broadway veteran Nik Walker steals the show in most of his scenes as antagonist/narrator Aaron Burr. He presents a seemingly unstable but deeply human version of Burr. It's hard not to feel sympathy for the character as he croons alongside Morales in "Dear Theodosia," a song dedicated to the characters' children. And yet, Burr is undeniably villainous in other moments; in the moments after "The Room Where it Happens," a swing piece about the deal between Hamilton and Jefferson to move the U.S. capital to D.C., Walker stands alone on a dimly lit stage, panting and showing off a toothy, malicious grin.
"Hamilton" also gets a lot of laughs, particularly from Neil Haskell's King George. Haskell delivers a performance that goes beyond the original, demanding far more laughs and involving far more rolled 'R's.
But the defining moment of the play comes in its best vocal performance; Emily Jenda's breakthrough moment as Eliza Hamilton in "Burn." It's a performance that makes you forget that Jenda is an actor; her vocals seem to translate real pain as her character discovers the truth about her husband's infidelity. 
For anyone worried that the Indianapolis rendition of "Hamilton" won't match up to the original Broadway performance: go in with an open mind. You just might find that Indy's "Hamilton" truly does the Founding Fathers justice.
Rating: 10/10
About the Contributor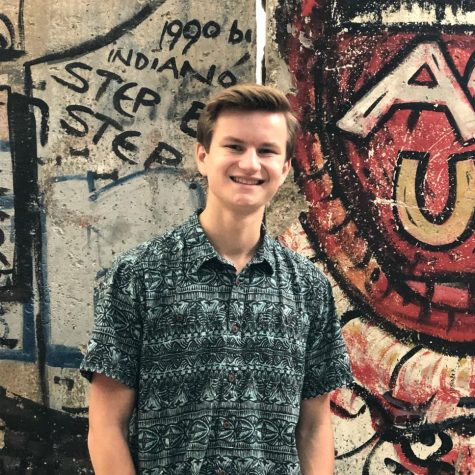 Graham Kanwit, Opinion Editor
Senior Graham Kanwit has been on staff for two years. He started his publications career his sophomore year as a guest writer covering a student-led walkout...