Center Grove falls to No. 7 Franklin in county championship
Thirty seconds into the second half, Franklin's Kuryn Brunson hit a three-pointer to stretch Franklin's lead to 22-14. Center Grove would need a significant run to win the Johnson County Championship. Center Grove did make that run and led by three after three quarters. But a Scarlett Kimbrell three with 27 seconds left in the game helped secure No. 7 Franklin's 40-37 victory
Aubrie Booker led the Trojans on both ends, scoring a team high with 10 points and forcing numerous turnovers. Rachel Wirts proved to be a presence in the paint for the Trojans, scoring eight points and grabbing multiple momentum-changing offensive rebounds.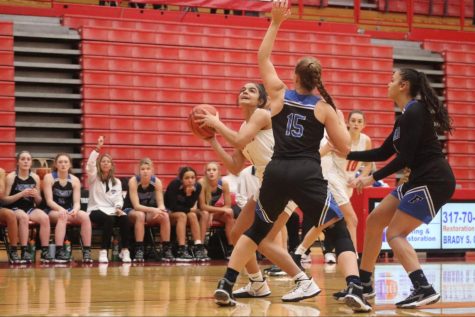 Although the Trojans lost, Booker learned something important: she must play like this every game. 
"I definitely had more confidence this game and I really stepped up. I really need to drive more, make the good passes, make the correct passes on time, trust my teammates more. Those things this game definitely showed me, I think I need to play like this every game," Booker said. 
The Trojans kept the first quarter tight, only trailing by one despite struggling to get their interior attack going. After a sloppy first half that saw the team's combine for 19 turnovers, Franklin took a 19-14 lead into the locker room at the half. 
Coming out of halftime, CG head coach Kevin Stuckemyer lit a fire under the Trojans. After Brunson's three, Center Grove went on a 12-0 run starting with Booker draining her first three of the game before forcing a Franklin turnover and finding Ella Hobson for a layup. 
"That's winning plays, that's someone stepping up when it matters and just finding ways to win or finding ways to make winning plays. (Booker) did that," Stuckmeyer said. 
With Franklin trailing Center Grove 30-27 to close the third quarter, Center Grove had momentum. The two teams battled back and forth with Wirts being a challenge for Franklin's bigs to stop. The 6'3 sophomore posted up for a basket and on the next play grabbed an offensive rebound and was fouled, sinking both free throws.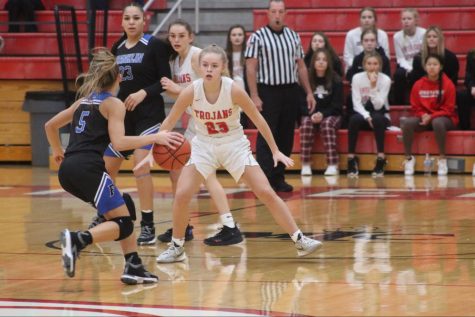 With the Trojans leading 37-35 with less than two minutes left in the game, Center Grove looked for a defensive stop.
They did stop Franklin's offense — three times.
The Trojans did not capitalize on Franklin's missed attempts, instead allowing three consecutive offensive rebounds. On the fourth attempt, Franklin's Ashlyn Traylor found Lauren Klem in the corner for an open three, but Klem passed up the open look, finding Kimbrell for an uncontested three. Kimbrell converted, putting Franklin up 38-37 with 27 seconds left. 
"You go to a shot, you give up an offensive rebound, you're in a scramble situation so that's where they get a lot of their threes. You're scrambling. You have to close out on somebody; you don't close out quite like you should and get back to that shell. It's really difficult to do," Stuckmeyer said. "They get another one; you give up, that next one just magnifies it. It's really hard to match up with shooters when you don't have your defense set."
Stuckmeyer said he hopes the Trojans are motivated by the loss as the team will likely face Franklin in the post-season. 
"I hope a little resolve and hunger and grit the teeth and know that there is a lot of season left. It's pretty motivating when you give yourself a chance and you're not quite there, and if you don't have the hunger and the focus and the drive when that happens then you're probably in the wrong activity because that's what you kinda strive for," Stuckmeyer said.