Sports Editor Sam Findley's winter season standouts
My Season Standout award is one given to the athlete who makes the biggest positive impact on his/her team. In no particular order, this award embodies the athlete who does all of the following the most often: has a positive impact on the season, consistently performs at a high level, is a leader on and off the field, turns in clutch performance, and contributes to the team's state tournament success.
Here are my picks for each team's season standouts:
Girls Basketball- Ella Hobson 
Hobson felt like the steady hand that kept the Trojans afloat during their 13-10 season. Hobson provided a burst of scoring and a helping hand on the offensive end racking in 7.9 points and 3.5 assists per game. Head coach Kevin Stuckemyer saw the 5'4 junior hit her stride in the second half of the season. 
"Ella, probably after Christmas once we started the new year, started to really solidify herself as our true point guard and are on the floor general with the ball. She did a tremendous job in several games just handling the ball and running our team," Stuckmeyer said. "And I think obviously that goes a long way calming us down and letting other players play to their strengths and not having to worry about just handling the ball and pressure and getting us into our offense and getting us into what we need to do."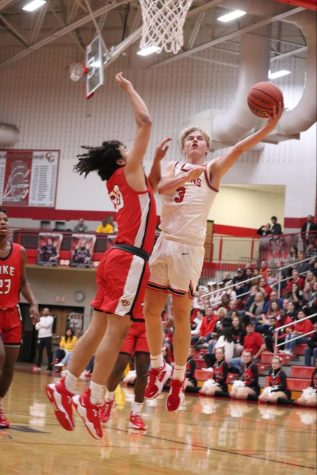 Boys Basketball- Marcus Ankney
In a 10-12 down year for the Trojans, Ankney took a step up in all aspects of his game, but especially offensively from his sophomore season to this year's junior season, something that head coach Zachery Hahn noticed.
 "He obviously took on the blunt of the scoring load. We lost 92% of our scoring last year. a large part of that was because Tayvn (Jackson) left early for football (early enrollment at Tennessee). So I think that put even more pressure on Marcus," Hahn said." We have a bunch of unproven scores, and we knew Marcus was going to have to be our playmaker. He did a great job of that, obviously averaged almost 15 points a game. So he jumped from like five points a game to 15 points a game from sophomore to junior year. And it's his third year playing varsity, but that means he took on the opposing team's best defender every single game. Their goal was to shut him down because he scored 30% of our scoring. He probably impacted 40 plus percent of our scoring when you think about assists, things like that."
Ankney finished his junior year averaging 14.3 points on 50.7% field goal percentage, 40% three-point field goal percentage, and 74.0 free throw percentage. On top of leading the team in scoring, Ankney threw in 3.6 rebounds and 2.1 assists per game.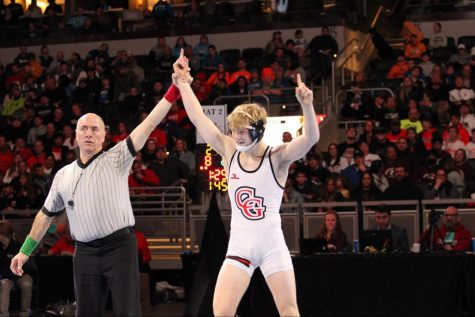 Co-Wrestling- Hayden Watson 
Collecting county, sectional, regional and semi-state titles and a 43-1 senior campaign Watson added the cherry on top to his resume with a 145-pound individual state title. Watson was able to avenge his only loss on the season by dominating Perry Meridians Matthew Koontz 11-4 in the state semi-finals. 
Head coach Mariuce Swain recognized Watson's leadership. 
"Hayden's been a captain since his sophomore year, so one of his big roles was just leading the team. He leads by example and he's pretty good at being a vocal leader," Swain said. "WHe was able to do that while staying focused on his goal and doing all the work needed to win a state title."
Watson finished his season with a victory over Rider Searcy from East Central by pin at 2:31 in the state championship round.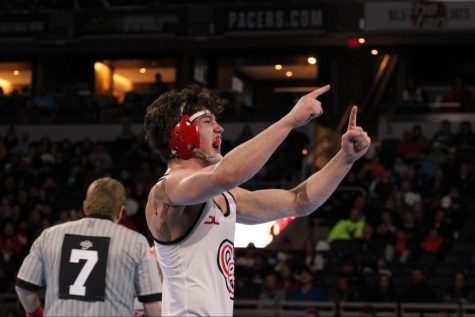 Co-Wrestling- Drake Buchanan
Other than a hiccup in the regional final, a 12-7 loss to Brownsburg's Gunner Henry, Drake Buchanan went unbeaten on his senior campaign picking up the county, sectional, semi-state where he bounced back to beat Henry with a final domination score of 13-2. Swain was most impressed with the Air Force commits' consistency.
"Drake was really consistent," Swain said. "Obviously, we had that one setback, but he was consistent for the majority of the year. He stayed focused throughout the season and throughout practice. Being able to practice hard every day is not an easy thing to do for four or five straight months. He was able to stay consistent with his practice habits. That was probably what I'm most impressed with, with him in general. He's just extremely consistent. He's always doing all the right things."
In his state title match with Crown Point's Orlando Cruz, Buchanan avenged last year's runner up finish with a 4-1 victory.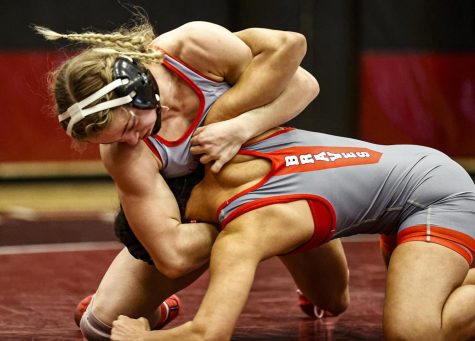 Co-Wrestling- Anna Krejsa 
Krejsa finished a 15-0 perfect season with a 126 weight class state title at the Indiana High School Girls Wrestling State Finals. On her way to that title, Krejsa finished first in the south regionals. Wrestling Coach Maurice Swain said he was impressed with her dominance. 
"She kind of dominated through the entire girl's season. She might have pinned every girl that she competed against this year," Swain said. "She works really hard. She practices with our high-level team, so she has tough practice partners every day and she was focused. She had that goal to go out there and win a state title, and I think also her goal was to dominate and not just squeak through so she did everything she needed to do and had a great season."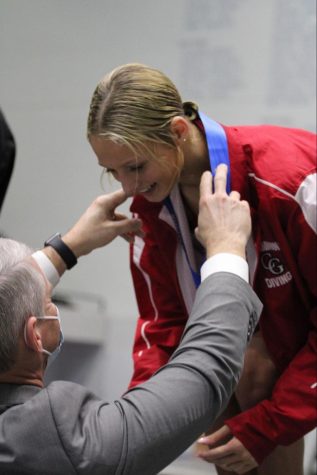 Girls Swim and Dive- Mia Prusiecki
Becoming the first diving champion in school history in her sophomore season, Prusiecki blew the competition out of the water with her performance this season. Along with a state title, Prusiecki brought home plenty of first-place ribbons, first at the county, first at sectionals and a regional record-breaking 572.95 score almost 100 points ahead of second place. 
Forty-year swim and dive head coach Jim Todd knows her talent and dedication have led her to where she stands now. 
"She spends hours and hours every day diving with her diving club, and her dedication to the sport is second to none also," Todd said. "She's got a lot of talent too. And with her talent and hard work, it's really paying off for her." 
Without Prusiecki you could argue the Trojans don't bring home their county and sectional titles.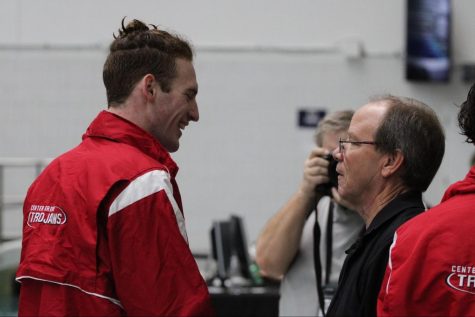 Boys Swim and Dive-  Garrett Crist
Setting the school record in the 100 back, and the 200 IM, Crist put himself a notch higher than any male swimmer or diver this season. In his final season with Center Grove, senior Crist also capitalized on his hard work bringing home four medals from the state meet, the University of Southern Indiana commit contributed to both the 200 medley relay (7th) and the 200 free relay (7th), along with individual podium finishes in the 100 back (8th), and the 200 IM (8th).
 Crist's hard work embodies everything the Todd coaching system stands for: going 100% in every practice 
"Garrett is Garrett. When he came to Center Grove swimming, he was an accident waiting to happen. Every time he turned around he was either hurt or something, he has come such a long way," Todd said. "And you know, last year he didn't even make an individual event at the state finals. And this year, he was in the championship heat for four events. I just couldn't be happier for him, and he is definitely a product of 'You work hard and you get for what you know what you work for.' So he's a great kid too,"
Overall Crist was the key factor for the Trojans in their first sectional title in ten years and in their 8th place state finish. 
Honorable Mentions 
Girls Basketball- Savanna Bischoff 
Girls Basketball- Aubrie Booker 
Boys Basketball- Jordan Vaughns 
Girls Swim and Dive- Lara Phipps 
Boys Swim and Dive- Ben Clarkston
Editor's Note: Why co-wrestling season standouts?
Looking at Buchanan, Krejsa, and Watson's senior campaigns it felt as if I would have had to split hairs to choose one winner. I am a big believer in rewarding the best for being the best so I will reserve the right to select co-winners of season standouts for future seasons and obviously this season.