Kicking up a win
Senior Landen Montfort joins football team as kicker after soccer season
It is frigid. Loud. Thunderous. It is unlike any soccer game he has played in.
Second quarter.
2:25 remaining.
Against the Cathedral Fighting Irish, senior Landen Montfort steps up to kick off for the first time as a member of the football team—during the last game of the regular season. After gaining a 14-13 lead, the Trojans are loud, but so is his heartbeat. Then, there is calm. 
A deep breath. A dissipating fog in the dry, biting wind. He accelerates forward, and as his white, blue and orange Nike cleat connects with the ball, thousands of eyes are glued to the pigskin as it skies past the crowd and through the end zone.
Touchback. Success.
A second-team All-State soccer player in 2022, Montfort's confidence to perform under pressure allowed him to overcome the nerves he had before his first game playing football since middle school.
"It was a nervous feeling because I didn't want to let the team down," Montfort said. "Besides that, I wasn't really nervous at all. I knew I had the leg to get it there and I had the confidence to not mess it up. The team kept me confident and believed in me, and it helped me deliver when I needed to."
One of the things that has stood out to Montfort is the regimen that the football team, including special teams, follows during practices.
"I never knew how much the special teams were practicing during our football practices, but I feel like every single day they're just trying to push me more and more to figure out something new and get better," Montfort said. "I feel like it's just a lot of motivation to make me better."
These practice sessions were particularly helpful with form and situational football.
"I work on multiple different kicks throughout practice to keep my form consistent. Almost every 30 minutes we do something related to kicking with the team to make sure special teams is ready for any situation in games," Montfort said.
Montfort has made an impression on head coach Eric Moore, who has been astonished by Montfort's kicking ability since the summer of this year.
"Last summer, he produced a video of him kicking, which is pretty impressive, but he was in a back brace so we weren't sure if he was healthy enough to play soccer," Moore said. "But once he was able to work himself through that and had a really successful soccer season, we started talking, because he is in one of my PE classes, about 'Hey, when you're done with soccer, [do] you want to come out and be a long kickoff specialist and a long field goal specialist?' With that being said, he came in and did a workout one day and didn't come back, but then his team lost in the regional game, which was too bad because I hated that for them. As soon as that was over, he showed up the next week and he's been with us ever since."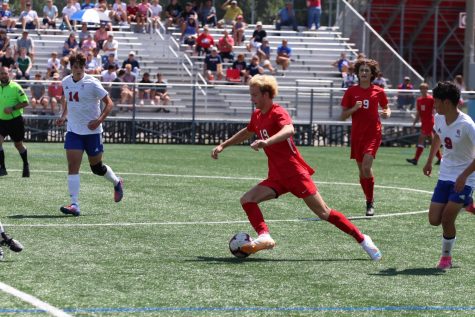 Montfort's unique skill set has strategic benefits, as it has opened up many options the team can use in a game.
"When you can send out a kicker like Landen who can kick off into the end zone in high school, the ball goes out to the 20 yard-line, so you don't have to worry about tackling those great skill kids in the open field," Moore said. "He struggled the other night in the bad weather, but if you get a little wind on his side, he can kick it out of the stadium." 
This has also allowed Moore and the coaching staff to take advantage of a rule that doesn't exist at the professional or collegiate level.
"It is fun to have that weapon, and what people don't realize is that in high school, anytime the ball goes into the end zone it goes to the 20 [yard-line] and you can't touch it," Moore said. "We can kick a long field goal with him instead of having to punt, which is tough because it is easier to get blocked and then you have to go down and tackle someone. We could kick a long field goal down to the end zone and it can go to the twenty. It's been fun to set up coaching ideas and schemes around that."
Montfort's attitude and intensity has also been something that has made him unique as a kicker and football player, which has endeared him to his coaches despite his unconventional tactics.
"
Well, that's our kicker. That's just how aggressive he is and how much he loves to play.
— Coach Eric Moore
"He even made a tackle. He made a tackle during the Columbus North game, and he's not supposed to do that because he's supposed to be the safety," Moore said. "All of a sudden you see this guy make a tackle and I was like, 'who made that tackle?' Well, that's our kicker. We had to tell him to stay back and take an angle [instead]. That's just how aggressive he is and how much he loves to play."
This display of intensity and skill in the kicking game has enabled Montfort to be able to search for possible football opportunities at the collegiate level.
"I'm kind of still looking into options. Obviously it's my dream to play soccer, but I'm starting to really enjoy my time with the football boys, and I think I can maybe make a little bit of a future for myself if I look into kicking more," Montfort said.
One week, a leader in the student section. The next, kicking off for the football team in the semi state championship game.
Yes, the night may be frigid. It may be loud. Thunderous. But, at the end of the day, the touchback – and the win – is all that matters.
Leave a Comment
About the Contributor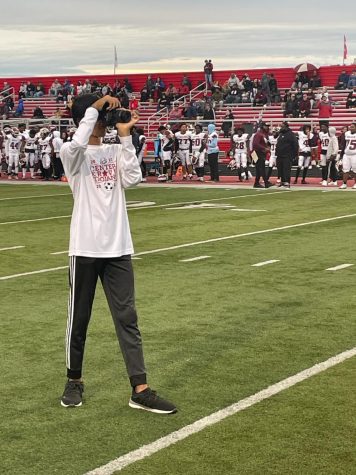 Gourav Pany, Website Editor
Junior Gourav Pany has been on staff for three years. He started his Publications career in his freshman year when writing stories about fantasy football...