Diving in
Junior foreign exchange student joins swim team
A whistle blows. Swimmers in the 50-free climb onto the block, including junior Lola Gilolmo. She prepares, waiting for the official to say, "Take your mark." She tenses, leans over. Then the buzzer sounds and Gilolmo and the other swimmers dive in. Her friend, sophomore Felicity Terry, cheers her on.
Gilolmo is a foreign exchange student from Spain. When her father told her that she could choose to come to the U.S., Canada or England to stay for a year, she chose the U.S., but not without a bit of a rush.
"I knew the day I was coming here, just a few weeks before," Gilolmo said. "That month was very stressful for me because I had to say goodbye to so many people and it was sad. My birthday was the day before I left. So I had to pack my things on my birthday and celebrate my birthday and stuff. I said goodbye to my family and my friends and then I went to the airport and took [the] plane. I almost missed it."
Gilolmo immediately had to adjust to life at their new home with her host family, the Laverys.
"I feel almost like they're my own family," Gilolmo said. "I mean it's not the same. They try to make me feel at home. My house is bigger than my apartment because I used to live in the city of Madrid. Life is very different. In Spain, I live in a very big city, so I can just go anywhere by myself, and here I can't drive or anything. People have to drive me everywhere."
Soon after starting the school year, Gilolmo decided to join the swim team because she was also on a swim team in Spain. However, it came with some adjustments to her schedule and priorities.
"In Spain, we didn't really see each other as much," Gilolmo said. "Me and my teammates, we weren't friends, [and] I didn't see them as much, so we weren't as close every year as I am with my teammates here. I think I really enjoy that. On the weekends we have meets and stuff, and meets are the whole weekend. So maybe I have to hang out with my friends a little bit less or I have to do homework and do it in study hall and I really need to have lots of time for swimming."
Nevertheless, she knew being on the team would give her a chance to meet new friends.
"Swimming is a great opportunity to get to know people," Gilolmo said. "For some people that have a lot of free time, you just spend your time there. You don't even have to do it as a competitive thing or anything, you can just have fun. Your teammates are great; the coaches are great."
It was through swimming that Terry became one of Gilolmo's closest friends.
"Well, she came in for club, which was during the summer, and I was doing club," Terry said. "That's when we started to talk more often. She was in the same group, same speed as me when it comes to swimming and so that's when we started talking. Then we became close friends."
Gilolmo then persuaded her other friends and fellow sophomore foreign exchange students Manuela Parente and Martina Ferreira to join the team. 
"Lola started because she swam back in Spain and Martina, she talked to Lola," coach Kevin Trammel said. "So Martina joined and then that brought Manuela. She wanted to be part of the team and since the other two foreign exchange girls were already here, she wanted to try it and I'm like, 'Let's go.'"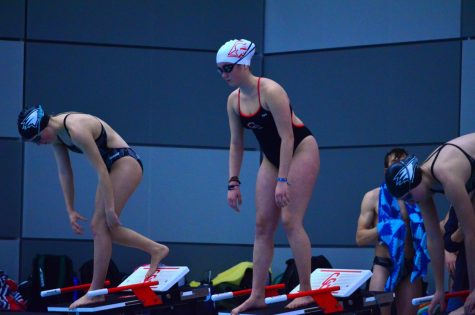 Trammel takes in students every year and they are all at different skill levels, and the foreign exchange students were no exception.
"All three are different," Trammel said. "Martina, she's really strong because she's done competitive rowing, and she has experience swimming. So she's right on the cusp. Manuela, from Brazil, she's never swam before. So everything she's doing now is she's learning as she goes. All four competitive strokes; flip turns. All those are new to her. She's picked it up pretty good. Then, Lola, in Spain, she swam in a club back there. But they train twice a week; we train twice a day. So it's been a big eye opener to her; the level of competitiveness here versus what she's used to is much higher."
However, there are still hurdles that come with being a foreign exchange athlete, such as the language barrier.
"What we call flippers or fins in Spanish is 'aletas,' and in Portuguese there is 'pés de pato,' which literally means duck feet," Trammel said. "Swimming has a unique vocabulary, like we say 'on the top.' – that's how to double and double zero or on the bottom is at 30. We look at the clock when we start our intervals. They all have different terminologies, but in general, their comprehensive English is really good."
With help from her teammates, Gilolmo was able to learn that terminology.
"Some things I didn't really understand, like technique or words and stuff, but my teammates just helped me with everything," Gilolmo said.
Additionally, Gilomo's close relationship with Trammel, who was able to speak to her in fluent Spanish, allowed her to further develop her skills as a swimmer. 
"We have a pretty close relationship," Gilolmo said. "He's very funny, which is a lot of fun. He's a very good coach. He knows what you're doing wrong and he's very easy to make things right with you."
Additionally, the relationship she has with Terry is not only strong, but provides a benefit when practicing.
"When we are on the wall, we laugh about whatever," Terry said. "When we're swimming, we're the same speed. We do the same stuff. If I don't feel like doing it, then she'll try to push me more or I'll push her to do stuff. When we feel like we can't do anything else, then she'll definitely be like 'yes, you can'. We'll try to push each other."
Terry also feels like Gilolmo, along with Parente and Ferreira, brings a factor to the team beyond the friendships she's made with them.
"Having a foreign exchange team like you get to know about other places and stuff," Terry said. "I think they bring a different energy to the group. As for someone from America, it would be the same. They provide a different support."
Gilolmo believes that the experience has improved her skills as a swimmer.
"I think it's been great," Gilolmo said. "I'm not as good as the other swimmers because they've been swimming their whole life. But I feel like I'm home. I feel like I've gotten so much better in only four months. My times have dropped and everything. Everything's just better."
However, Trammel recognizes that there is more she can take away from swimming at CG, outside of the pool.
"Bianca, I saw her last year, the girl from Italy, you know, she wasn't going to swim high school, but I said, 'this is a once in a lifetime opportunity. At what point in your life where you have an opportunity to be on an American high school swim team or just any team,'" Trammel said. "When you talk about looking back when you write your story. That's a fun chapter, because you can go back to Spain and go back to Brazil and say, –when they see a movie with a swim team– 'I was on an American swim team. I know how that works.' It's something that will live with them forever. They can tell their kids and grandkids."
Leave a Comment
About the Contributor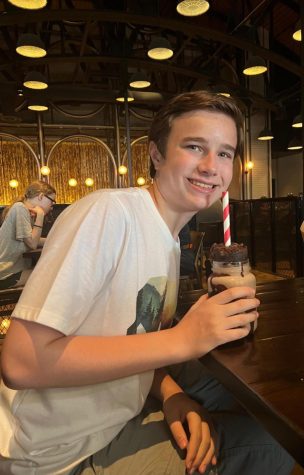 Noah Baker, Staff Writer
Junior Noah Baker is in his first year of Publications. He started the year by publishing a variety of media including through the yearbook, CGTV and articles...