Honoring the past
Junior collects war memorabilia and posts about them on Instagram
Back in eighth grade, junior Jude Alejo found his passion for collecting World War II items. He shows his passion to a wider audience on social media with detailed writings about his pieces and hopes to continue this for years to come.
 Alejo posts each item to his Instagram, @ja_militaria, with over a thousand followers. His interest in this comes from the video game "Battlefield 1," which takes place during the World War I era. Soon after playing this game, Alejo had his first find around 2019 when he lived in Florida. 
 "I collect uniforms, letters, medals, helmets, weapons, and just a whole mix of stuff," Alejo said. "I had just recently played 'Battlefield 1' and got into World War I history, so I went to this antique store and bought a World War I French helmet for $60 and that's what got me into this stuff. I got super into World War I stuff, but then it branched out to World War II, Korean War, Vietnam – really all the wars in the 20th century. I branched out to just about everything and then now it's more focused on USA."
Alejo also has several military connections throughout his family. Many of his close relatives have served in a variety of military branches including the army and marines.
"My great uncle was a Marine during World War II and most of my family has a good military history," Alejo said. "My grandpa was a Korean War veteran and my uncle was serving in Algeria in early 2022."
Because of his familial connection with the military, Alejo said he plans to go into the Navy after high school. In addition to his future plans, he still has an interest in the military's past.
"What keeps me interested in it is finding out the history behind the veterans whose items I collect, learning about them and what they fought for," Alejo said. "It's some interesting stuff."
It's not only Alejo with this hobby, though; online, there is a whole community of collectors that collect World War II items. This hobby has allowed him to make connections with people who have similar interests.
"There are whole communities on Instagram and forums where everyone shows off their finds," Alejo said. "I have a bunch of friends in the community, and it's a great way to make the military a community where you can meet people that you can relate to."
Because of this connection with others in the collecting community, Alejo has been able to find inspiration from these friends which has strengthened his interest in collecting and allowed him to better his own work.
Alejo has been making these Instagram posts for quite some time. He also writes a nonfiction story about every item he collects. Alejo focuses on writing stories of these veterans' accomplishments, the battles they fought with descriptions of what happened in those battles, and much more focusing on the veterans themselves.
"They're all real, everything I write about these veterans is real," Alejo said. "I try to write not only about the items but about the guys that owned them."
Through researching these stories, Alejo has been able to learn about the untold stories of American soldiers. One such story that sticks out to Alejo is a story about an attorney from California.
"He fought in World War II at the Pacific theater," Alejo said. "He was involved in combat in Saipan where he held off a Japanese Banzai attack." 
Alejo now has this veteran's uniform.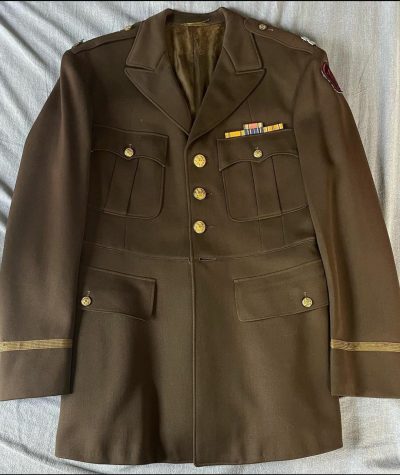 And it's not that hard to find these items; Alejo finds memorabilia from eBay, Facebook marketplace and antique stores. His favorite Facebook Marketplace find was a collection of medals from a Spanish-American War veteran.
"My favorite find is probably this medal grouping I recently acquired from a guy from Kokomo, Indiana," Alejo said. "He served in the northern and southern Philippines and he operated artillery on New Guinea."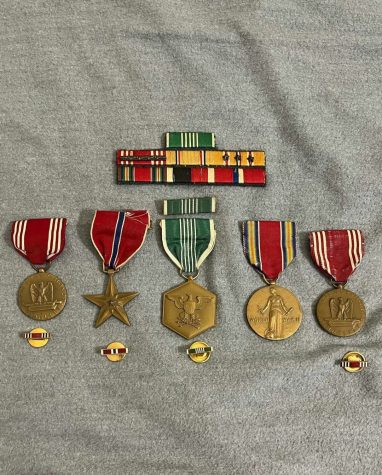 Considering the passion his collection shows, it's no wonder why Alejo plans to continue collecting and maybe even making a career out of it.
"It's so important because when you look into it you can find out not only all of this crazy stuff that they did but who they were," Alejo said. "My dream is to maybe even open up my own museum to show off these things to people. The history behind all these items and all of these men and women who fought for our country, that's what's important to me."