Cross Country teams take on New Pal during annual halftime meet tonight
Tonight, the boys and girls varsity cross country teams take on New Palestine during halftime of the football game. For some seniors, it is their first and only time running the meet.
"It's the one and only time I'm running halftime," senior Michael Goebel said. "It's the only chance the whole school gets to see me run."
The boys team is looking to prove themselves to the school as they look toward a state qualification later this season.
While some runners are running for the first time tonight, others have run the meet several times. For boys' team captain Archit Malik, this meet is an important step toward state after he failed to break 16 minutes in the 2018 meet.
"Last year I took the lead straight from the start," Malik said. "This year I want to run in the lead pack and try to out-gut the front pack in the second half of the race."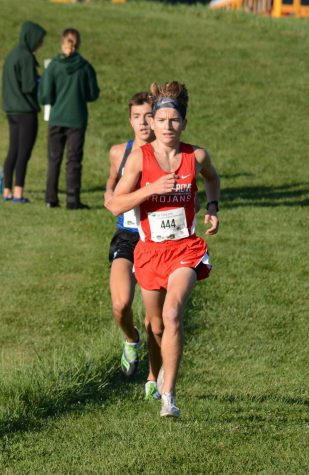 The New Palestine boys team is No. 33 in the state. However, the boys team at Center Grove is ranked No. 4.
"We're not going out quick," Goebel said. "We're not losing momentum and taking tight corners, and it's just about trying to save enough to put on a good show at the finish."
With the addition of freshmen Ty Garret, Drew Costelow and Parker Mimbela to the team, Malik believes the team has a strong chance of beating New Palestine.
"We just need to go out and perform like we do," Malik said. "I don't think there's any way we can't win this meet. We're going to go first through sixth is my feeling."
The girls team will be racing a 4k tonight against a strong team that will present some challenges.
"New Pal has a really good girl squad," senior Gabrielle Harrell said. "It'll be exciting because it'll be very competitive for the top spots. The challenges they present are that they are a very strong group of girls with a large amount of talent, but I know that if the we run and work together we can pick them off one by one."
The halftime meet is very different than a traditional cross country meet. 
"The thing that makes this meet special is that it's during a football game so there will be a big crowd," sophomore Hudson Gilstorf said. "Another thing is that most students don't come to cross country meets, so I think it will be cool for them to see us running like we do in a meet."
The girls team is looking to come back from their loss against New Pal last week at the Zionsville Invitational and has key aspects they want to focus on tonight.
"The key for team success is keeping a positive mindset and always cheering each other on," Harrell said. "When you are running a 5k race it is very easy to doubt yourself, but when you keep a positive mindset and you see the girls on the sidelines cheering you on it sets a fire in you to succeed." 
Meanwhile, a win for the boys team would help them continue to build momentum toward a county title and qualification for the state meet. 
"I get to show everybody how far I can push my limits," freshman Ty Garrett said.