Making Makeup Scary
Junior uses makeup skills at Nightmare on Edgewood
The wind blows cold on a fall night in October, but the people at Nightmare on Edgewood don't feel the chill: they're too busy buzzing with adrenaline. The haunt hosts a wide variety of people being scared along with those with special jobs, including makeup artists, actors. Among these people is Mayla Panell '22.
FX makeup is overlooked by many, but the art form influences much of what people enjoy. Haunted houses are just the surface of where FX makeup can be found; Hollywood is crawling with this kind of makeup to help make the cinematic experiences that movies bring more believable and exciting.
"I got into makeup because I saw similar things on social media/online and I thought it looked cool, and I became curious about how they create things like that and I wanted to do that myself. I also paint a lot outside of makeup and I like art, so I thought it would have been something I would get into. So, I did a lot of research on it and taught myself a lot of techniques on SFX makeup," Panell said.
Panell took her passion for FX makeup and adapted it into a career, as she started working at Nightmare on Edgewood, one of the area's most popular horror attractions, in 2019 as an FX makeup artist for the various actors.
"At the time the haunt needed workers for makeup and acting, so I went to a meeting and met the owners, and I showed them basically a collection of the makeup that I had previously done," Panell said. "They really liked it and said that they would make an exception with the age limit for me to work, and I've worked there ever since."
While it may look straightforward to some, applying the complex and gory details requires an abundance of skill.
"The biggest difficulties with FX makeup is thinking of new ideas and making the looks my own. I also need to make sure the makeup I do on people at Edgewood will be noticeable in each room they are in. For example, i need to know what the room is andlooks like and how well lit up it is to make the makeup make sense for that character," Panell said. "This is sometimes difficult, especially when I don't know exactly where people are, and how detailed I really need to be. Something else that is difficult is getting through a lot of people who need makeup before we open the haunt. We only have five makeup artists and we have to get through tons of people from both Nightmare on Edgewood and House of Trepidation."
On top of her work with makeup, Panell participates in the scares herself.
"Some things that are difficult at Edgewood with acting is keeping your energy up even on long nights. My character for the haunt this year and last year both needed tons of running around and screaming which takes a lot out of you throughout the night. Most Fridays we are there working until 2 a.m., and Saturdays until 3 a.m. and sometimes 4 a.m., getting through the long lines. This is especially hard when I have been there since 5 p.m. That's nine to 10 hours working late at night running around and screaming over and over," Panell said.
COVID-19 is a new obstacle that Nightmare on Edgewood has to tackle this 2020 Halloween season. It not only affects the guests coming into being scared, but it also impacts the actors and makeup artists working at the haunt.
"The makeup crew had to make and sculpt masks for almost everyone in the haunt to fit with the rest of the makeup. We all have to put on hand sanitizer constantly and take our temperature coming into the haunt. We also can't have groups over six people, and you have to stay with the people you came with. I think we will have either a ton of customers every night because there is not much to do now, or barely any because a lot of people are scared of the virus," Panell said.
To Panell, working at Edgewood has given her a chance to hone her craft while embracing the spirit of the season.
"My favorite part is getting to know all of the people, and learning so much there with makeup. And obviously getting to scare people all night."
Leave a Comment
About the Contributor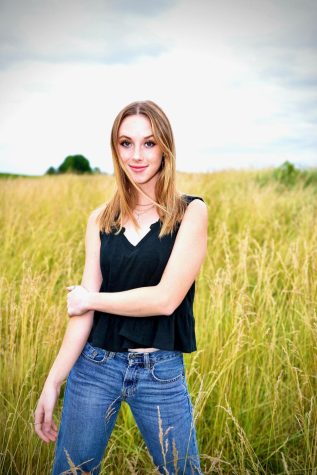 Abby Matthews, Staff Writer
Senior Abby Matthews has been on staff for two years. She started her Publications career Junior year when writing stories about FX makeup, taking sports...