Preview: Boys Soccer takes on rival Carmel at home tonight
After defeating Lawrence Central on the road 4-0 on Tuesday in their first MIC match of the season, the boys soccer team is at home tonight facing their biggest MIC rival: Carmel. Last year the Trojans won the MIC title outright,including a 1-0 victory over the Greyhounds, and they are looking to do the same this year.
"The game against Carmel is always crucial to our season because they are one of our biggest rivals," senior Nick Wilson said. "It's also our second MIC game, and we are aiming to win the conference again so it's a huge game."
Tuesday's shutout of Lawrence Central, a team they had not beaten in three years, was important, but the team knows that it will take more to defeat Carmel.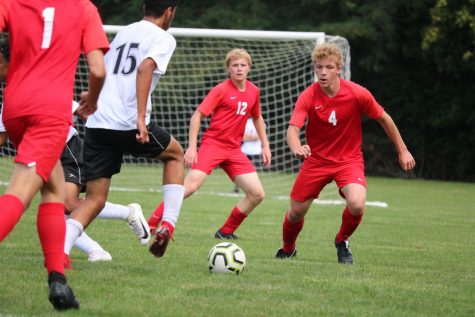 "In order to succeed, we need to maintain our shape defensively, finish our opportunities at goal and avoid playing too direct," senior Carter Zuch said. "We also need to focus on staying positive with each other during the game."
Carmel lost to Ben Davis earlier this week, but that doesn't mean the Trojans don't have challenges to face going into tonight.
"Keeping our guys healthy is an ongoing challenge," Zuch said. "With Cam Perry out with a high ankle sprain, and Aaron McDaniel and Ethan McGee coming back from concussions, it will be interesting to see how our line up shifts."
A win tonight would give the Trojans a 2-0 MIC record and put them in the driver's seat for the conference title
"We just need to play intense and keep our heads," senior Tesfa Seyoum said. "When we play together and work hard, Carmel doesn't stand a chance."