Symphonic, philharmonic orchestras host first performance of the year
The curtains finally open after slight technical difficulties. Applause rings through the auditorium. Conductor Laura Deaton signals to the left side of the stage and the lead philharmonic first violinist, or concertmaster, junior Devin Mello enters and bows. After tuning, the concert begins.
Wednesday, October 6 was the night of the orchestra's fall concert, starting with the philharmonic orchestra. The symphonic orchestra ended the night.
"We sounded really good as a group, and the philharmonic sounded really good, too," sophomore Riya Patel, a symphonic violist, said. "All of our hard work was a success."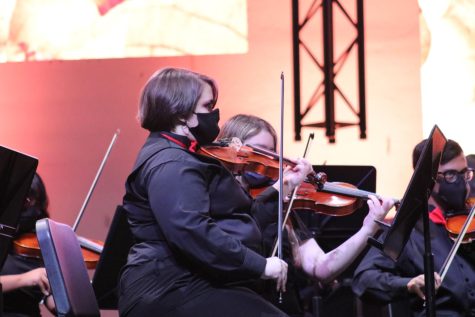 After the 2020-2021 school year full of quarantines, hybrid schedules and pink days, the orchestra had to learn how to overcome the challenges of being separated.
"It was difficult to transition back to being an orchestra from the COVID pandemic," sophomore Benjamin Helton, a symphonic bassist, said. "It was getting all back together. Last year we had separate groups, and not everybody could be in person at once."
Helton asserts the importance of unity in an orchestra.
"It's a great group. We're all one big family," Helton said. "We all enjoy playing pieces together, and making music."
Senior Gavin Anderson, the concertmaster of the symphonic orchestra, is proud of the performance.
"We improved a lot over the course of preparing our pieces over the last few months," Anderson said. "Our underclassmen are starting to learn the ropes and the standards it takes to make beautiful music."
Senior Amelia Gonzales from the symphonic orchestra is proud of the orchestra as well, and has a passion that is important to her as she contributes to the orchestra.
"Orchestra is something I've been doing for seven years, and I love it," Gonzales said. "I love it so much. It fills me with joy and I love playing with people, and it's just great."