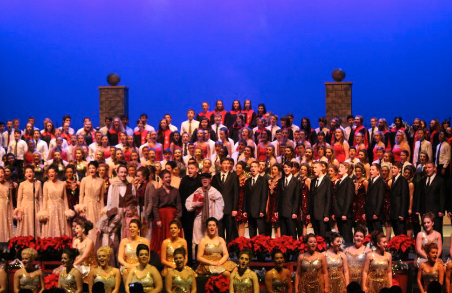 By Madey Jacks and Jessica Richardson
Photos courtesy of Center Grove Choirs
The Center Grove Choral Department is preparing for the Spring Spectacular. Although the show is a Center Grove tradition, the department is adding more performances. The show will be performed at 7 p.m. on Wednesday, May 11 and Thursday, May 12.
"We're doing the same show, so it's not necessarily more work in terms of preparation, but the show itself is much bigger than what we have done in the past," choir director Jennifer Dice said.
Producing a show on a larger-than-normal scale hasn't completely changed the choirs' approach, but it has demanded more of the participants.
"There are more intricacies and a little more effort," Dice said. "It's just more involved than what we normally do."
In addition to organizing and planning the on-stage movements, students' costumes became a concerted effort.
"Some students got together and went thrift store shopping to find some Ozian looking costumes and others planned way ahead or order costumes online," junior Ciara Phillips said. "The best things about trying to find your costume separate is waiting to see it come all together days before the show."
The students have seized their roles to allow them to find joy in the small components of their roles .
Surround Sound member Isaac Evans will be playing the guard at the gates of the Emerald City.
"Being the guard is a lot of fun; I get to be in every number while being a character, also I get to have a cane which is sweet," freshman Isaac Evans said.
The show has given the choirs to take an experience from New York and share it with the Center Grove Community.
"We're doing a bigger show because it's fun," Dice said."We went and saw 'Wicked' in New York City with all of the varsity kids this year so all of them have seen that part."
Holding the performance on two nights has allowed the choir to double the potential number of people that can see the Spring Spec.
"There are still going to be seats for both of them, but you're not going to be sitting in the middle section," Dice said of ticket sales. "We've got a majority [out of 1169 seats in the Performing Arts Center] for both nights."
The show has currently sold about 1200 tickets between the two showings. Reserved seating is being sold online at https://app.arts-people.com/index.php?show=56417.