Ruling the Game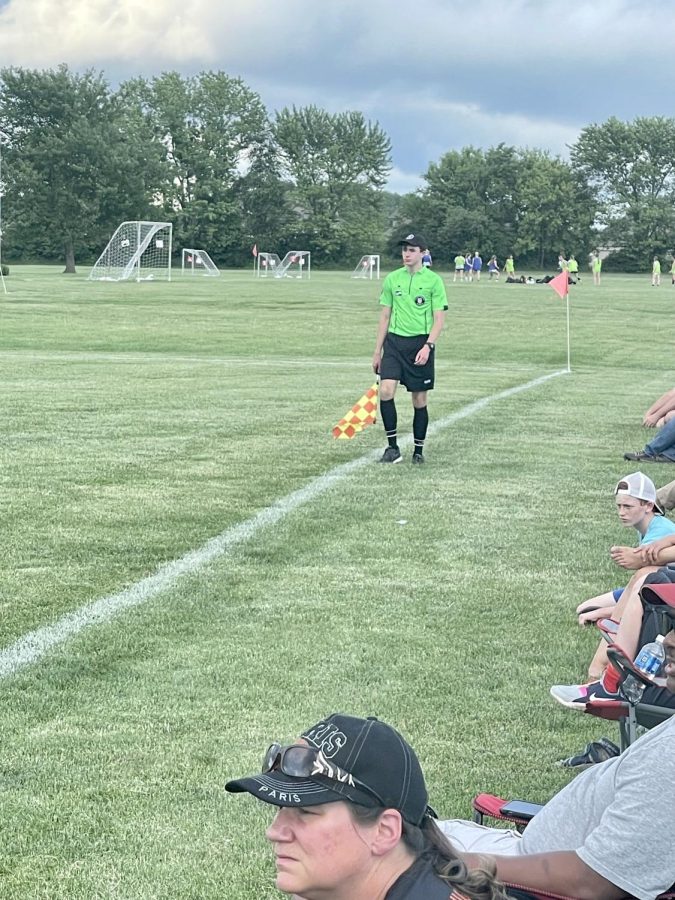 Most high school students opt for standard part-time jobs, like fast food or retail, but junior Joe Sowers capitalizes on his love for soccer by refereeing for the South Central Soccer Academy in his free time. Sowers has been playing soccer ever since he was four, and this is his sixth year working as a referee.
"I heard about refereeing when I was a sixth grader from one of my older friends who had become a referee," Sowers said. "I had to sign up for a class on our reffing website and then go through all of the videos, and at the end, I had to take a test. Then, I had to go to an in-person class to finalize it."
After Sowers completed the course, he found that he enjoyed reffing and helping new players learn how to play.
"I have to not only make sure the rules of the game are upheld, [but] I also have to make sure that the kids are learning how to play because at the younger age groups a lot of them are unsure of what they are doing," Sowers said. "The most important thing is that all of the players are playing safely and in a safe environment."
Reffing has helped Sowers grow, both as a soccer player and as a leader.
"The best part of the experience has been reffing with people who are much more experienced than me and learning from them," Sowers said. "Reffing benefits me because it is essentially a leadership position, and I have to have control of my field. I also have to learn how to operate and make decisions."
Refereeing can be a stressful experience when having to make difficult decisions quickly and even more so in front of a crowd.
"It can be stressful, especially when I have to referee a game with unruly parents and coaches," Sowers said. "You need to be very calm and composed, as well as decisive. The most difficult part of reffing is making calls in intense games in arbitrary situations."
Sowers plays an important role when it comes to the teams' safety.
"One time I was refereeing a championship game for a tournament, and one of the teams felt that the aggressiveness of the other team was making it too difficult to play," Sowers said. "They forfeited at halftime even though they drove about three hours for this tournament."
An unruly team is not the only thing that Sowers has to worry about when it comes to reffing.
"I have experienced freezing temperatures with massive wind chills, absolute downpours in multiple temperatures, and heat indexes of over 100 degrees," Sowers said. 
Despite the harsh weather conditions and occasional stressful situations, Sowers still enjoys reffing. 
"It's much more engaging than a normal job and my hours are much more flexible, which works better for me," Sowers said. "It is much better than a regular job, and it teaches valuable skills."
Sowers plans to use the important skills that he has learned through reffing, both on and off the field.